Deal Made, Central Falls Teachers Keeping Jobs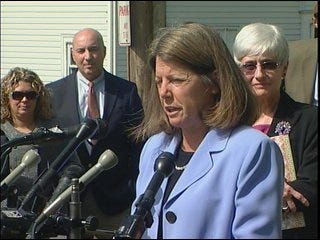 Facing the prospect of pounding the pavement for new employment all summer, Central Falls High School teachers and support staff are now staying put. ABC6 Reporter Paul Mueller has more..
CENTRAL FALLS, R.I. (AP) – Teachers fired from a struggling Rhode Island high school have approved an agreement that allows the entire staff to be rehired.
Dana Skorupa, a member of the Central Falls Teacher's Union, says the agreement passed easily on Monday.
The agreement allows the roughly 90 teachers who were fired from Central Falls High School to return to their jobs without having to reapply. But it requires them to work a longer day and provide more after-school tutoring, among other changes.
The school is one of the state's lowest performing. The board that oversees it voted in February to fire all teachers in a drastic reform effort.
The firings caught the attention of President Barack Obama, who called it an example of accountability.

(Copyright 2010 by The Associated Press. All Rights Reserved.)