Dee from the Desk: 2014 Political Hopeful List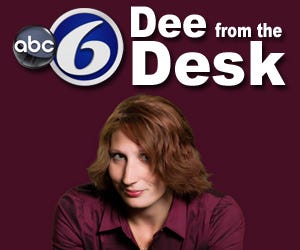 The political field for 2014 is shaping up and already several candidates are declared. Here is a list of what the field looks like so far, who is definitely in, who we think is in, and who we speculate will join the race.
Governor:
Independent: Lincoln Chafee: He has told us several times he is "raising money" and he seems to like the job even though he is often lampooned by the media. Even with low approval ratings Chafee could pull off a re-election. He did it once, he can do it again. Let's not forget he just had a major victory with same sex marriage.
Who we think is in:
Democrat: General Treasurer Gina Raimondo: She has not made any formal announcements but has not denied it either. She has a huge warchest and has been all over the state recently.
Democrat: Providence Mayor Angel Taveras: He hasn't said he is running but it sure looks that way and he has done nothing to dispel speculation.
Republican: Cranston Mayor Allan Fung: Fung has begun putting a political team together and is definitely exploring a run.
Speculation:
Republican: Brendan Doherty: Most people can't find a bad thing to say about the former State Police Superintendent and a lot of Republicans would love to see him run for Governor. It's probably a long shot though. It seems like he and his team might be still licking wounds from his failed congressional run.
Moderate: Ken Block: Block put his party on the map by achieving over 5% of the vote in the 2010 Governor's race, it is very unlikely that Block will let the 2014 election slide by without having a Moderate lead the ticket. If Block doesn't find someone to do it, he will step in and run himself. This could be a conflict for Block who is currently heading the non-partisan "RI Taxpayers" formerly known as "RISC."
Democrat: Lt. Governor Liz Roberts: Politically it's the next step for the term-limited Lt. Governor. Roberts hasn't made much mention of her political plans after leaving office and it is unlikely she will mount a run in a crowded Governor's race. She may have her eyes on Congress or another seat. In the words of Frankie Avalon: "her future is so unclear now"
Lt. Governor
Who we think is in:
Democrat: Cumberland Mayor Dan McKee: He has been hinting at this run for a while and setting himself up to do it.
Speculation:
Democrat: Secretary of State Ralph Mollis: Lt. Governor is the next logical political step for the former North Providence Mayor and current secretary of state. He hasn't said much about the office but it seems to be a job he would be considering.
Cool Moose: Bob Healy: Everybody loves the cool moose Bob Healy. He has run for Lt. Governor with the platform of abolishing the office a couple times creating the most momentum in 2010. While Healy was committed to his stance, he has hinted that he would not be mounting another run, although things change.
General Treasurer
Who we know is in:
Democrat: Former General Treasurer Frank Caprio. Maybe running for Governor was a mistake for Frank Caprio (just like that "shove it" remark) because now he wants his old job back. Caprio's people leaked that he was running for General Treasurer in 2014 and just recently the former treasurer spoke to the Providence Journal. Prior to this Caprio has been off the political radar.
Democrat: Ernie Almonte: Abandoning his run for Governor, the form state auditor general will run for treasurer. He knows numbers and he probably looked at the poll numbers for the governor's race and realized he has a much more realistic shot at the treasurer's seat.
Secretary of State
Who we know is in:
Democrat: Former Chairman of the Democratic Party Ed Pacheco: Pacheco made it official last month that he will seek the office of Secretary of State He resigned as party chair at the beginning of May. Pacheco has been floating the idea for a while even submitting op-ed's to the Providence Journal.
Democrat: Guillaume de Ramel: This Democrat has run for secretary of state before in 2006 and lost but now he is ready for another bid. He is young and energetic and he has waited out Mollis's term and is ready for a second bid for the office.
Republican: Catherine Taylor: She came within a percentage point of unseating sitting Secretary of State Ralph Mollis. She was likeable and ran a great campaign. Currently she is working for Governor Chafee as the Director of Elderly Affairs.
Attorney General
Who think is in:
Democrat: Attorney General Peter Kilmartin: Kilmartin has had a seemingly smooth first term as Attorney General. While other before him including Patrick Lynch and Sheldon Whitehouse had some rough patches Kilmartin has been relatively quiet. Unless Kilmartin plans to seek higher office, like Lt. Governor, chances are he will run for re-election with a strong advantage.
Speculation:
Moderate: Christopher Little: He hasn't made any real announcements but he still has a campaign account opened with the Rhode Island Board of Election. While it doesn't mean much Little ran a decent campaign in 2010 and it would be no surprise to see him mount a second run.
Republican: Senator Dawson Hodgson: Hodgson is a former prosecutor who now serves on the Senate Judiciary Committee. He has always had sites on higher office but it is unclear which. The Attorney General's office might be a fitting office for Hodgson. He has not made mention of making a run but it would not be surprising if he did.
---
Dee DeQuattro is the assignment desk manager and digital news coordinator for ABC6. She studied politics and communications and holds a master's degree from Providence College. Follow her on twitter @deedequattro and log on to ABC6 .com for her latest in depth coverage of politics and news.