Dee From the Desk: A Republican ready to take on Cicilline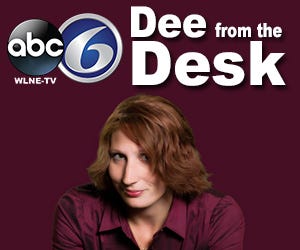 There is a new guy in town and he says he is ready to challenge Congressman Cicilline.
Meet Cormick Lynch, a 29-year-old Marine Sergeant who grew up in South Kingstown Rhode Island. Lynch who has dubbed himself a "pioneer for the middle class" has just returned to Rhode Island after leaving the state for a few years to get a bachelors degree in finance and take a job at JP Morgan in New York.
Now that he has returned Lynch says he has two priorities, to give Cicilline a run for his money and to start a non-profit to help returning veterans get through college.
Lynch, who served as a Marine gunner in Fallujah in 2006, says he recognizes the challenges of returning veterans and wants to help the new generation of veterans get through school. At age 19, Lynch joined the U.S. Marine Corps. In 2007, he returned to Rhode Island where he worked as a firefighter in East Providence while putting himself through school at URI at night. After an accident that left him injured and unable to work, Lynch left his home in Newport and headed to Delaware where he graduated with a degree in finance from the University of Delaware. In 2011, Lynch headed to the big apple to pursue a career in business. Lynch says he is lucky he was able to go to college after his service but today returning veterans are struggling after Congress slashed their benefits in December of 2013.
"I saw first hand the sacrifices that are made to preserve our way of life and protect our citizens," said Lynch. "I could no longer stand on the side lines and watch the disrespect they [Congress] are giving to our armed servicemen."
Lynch says he recognizes that Rhode Island has a great deal of issues but "the problems in Rhode Island are the byproduct of bigger problems in Washington."
The battle is likely to be an uphill struggle for the 29-year-old businessman who has yet to select a campaign manager or begin raising money. He will take on Congressman Cicilline who in 2012 beat Republican Brendan Doherty by 13% of the vote and in 2010 beat John Loughlin by 6% of the vote, roughly 10,000 votes.
Lynch is still determined though and noted that he thinks with his message and experience he will be able to raise the money necessary to lead him to victory. Recently, he was in New Hampshire at the Northeast Republican Leadership Conference and began laying the groundwork for his campaign.
Lynch said that he believes his message will resonate with many Rhode Islanders. "I am a common sense, pragmatic, moderate, socially tolerant fiscal conservative Republican who came from nothing, worked in a union, and graduated college on the GI bill," said Lynch. "I understand the struggle of the common man and the middle class more than any Democrat."
Lynch said he is stepping up to the plate to run noting that the RI GOP cannot just give Congressman Cicilline a pass this election. He did recognize that the RI GOP has its struggles and noted he chose to run for Congress over the Senate because the Republicans do not need anymore primaries.
"We have to start aligning our ducks now for November. We can't cut our own throats until September and expect to win," said Lynch. He noted that sometimes the GOP's worse enemy is itself. He believes that the Republicans could prevail in November if they all work together and not against each other.
Lynch is the first Republican to state interest in running for Congress in the First Congressional District. Other names including former congressional candidate John Loughlin and former CEO of Alex and Ani Giovanni Feroce have been bantered about as possible candidates.
Feroce has not denied that he may seek political office but has not given truth to the rumors however he has had meeting with members of the Republican Party.
Lynch is expected to make a formal announcement on April 21.
Follow me on Twitter: @DeeDeQuattro
---
Dee DeQuattro is the assignment desk manager and digital news coordinator for ABC6. She studied politics and communications and holds a master's degree from Providence College. Follow her on twitter @deedequattro and log on to ABC6 .com for her latest in depth coverage of politics and news.