Dee from the Desk: Blaming Block?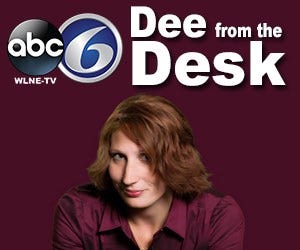 The heated Republican Gubernatorial Primary is over but some Republicans still can't resist pointing fingers. The newest issue to arise among the small Rhode Island Republican Party is the announcement of the candidacy of Bob Healey for Governor.
Healey says he will step into the governor's race as a Moderate and replace James Spooner who had previously announced but now has taken ill.
With the announcement, some Republicans are pointing fingers at Ken Block, the loser of the Republican Primary and the founder of the Moderate Party in 2010. People are suggesting that the fix was in all along and that Block is somehow involved in the candidacy of Healey.
On Block's part he denies any part in Healey's announcement. Block broke his silence a week after the primary announcing plans to run for the Constitutional Convention in RI. Block sent a heartfelt thank you to supporter the day before with one key element noticeably missing; any reference of his primary opponent Allan Fung.
While Block may still be licking his wounds, it is unlikely he selected Healey to run as a Moderate. First off, the Block campaign seems to have legitimately believed it was ahead in the polls. Whether it is a circumstance of an unpredictable primary or bad polling it is unlikely the Block campaign was focusing any efforts on what should happen after the primary if they lose.
Some Republicans say Block's lack of endorsement for Fung indicates he was involved with Healey. Others say if Block wanted to be a so-called "good Republican" he would simply endorse Fung and move on. It seems clear that after the brutal primary there are still some sore feelings there. One argument that some Republicans make is that no candidate should get a staple endorsement simply because of their political party. This viewpoint is part of the problem for the RI GOP. While it makes sense and is respectable not to give a candidate a staple endorsement solely based on political party, the Democrats manage to pull it off and stay unified despite bitter primaries. (However, at this point it is important Providence Mayor Angel Taveras has come out to endorse Raimondo, at least not yet. Clay Pell endorsed her in his concession speech. (earlier piece incorrectly stated Pell had not endorsed.)
In the past Block been iffy about whether he would support Fung if he didn't win in the primary. As early as March, when Fung was endorsed by the Pawtucket GOP, Block made a comment referencing that there could only be "one Alpha Dog" at the top, while Fung said if he lost in the primary he would indeed support Block. The Block campaign later backtracked on the comments saying the Pawtucket GOP took the remark out of context in a press release they sent and that Block would of course support the Republican candidate if he were to lose in the primary. The campaign said Block was referring to his own personal ideas for the Governor's office when he made the remark.
Meanwhile back to the blame game, the only blame that can actually be placed on Block is for starting the Moderate Party to begin with. But, for the Moderate Party, Healey wouldn't be running for Governor. It is unlikely Block is meeting with Healey behind closed doors in order to disrupt Fung's candidacy.
Instead of pointing fingers, people should take a look at Healey's platform. So far there is not really one, he did just get into the race less than a week ago. In the past Healey, has run for Lt. Governor under the premise of abolishing the office to save the state money. It is no secret that he has been a conservative favorite but Democratic candidate Gina Raimondo and Fung have also enjoyed popularity among conservatives, especially conservative independents; Raimondo for pension reform and Fung for his leadership in Cranston.
Healey's past popularity may be a result of his radical platform, his unique images, and his grassroots campaign efforts. It is unclear if this will play well in a race for the state's top office. Meanwhile, while it seems likely that Healey will hurt the Republican, Healey is also likely to siphon off some Democrats who don't support Raimondo but can't fathom voting Republican.
In a few weeks it will be clear whether Healey's candidacy is being considered plausible in the court of public opinion or whether it is being brushed aside. First the public needs to see what the former "Cool Moose" actual stands for. While some Block fans who are still bitter over the primary are already throwing support behind Healey, throwing support behind a candidate that is yet to reveal any ideas is the same thing as throwing support behind a political party.
Both the Fung and Raimondo Campaigns have done well to focus on their own candidates and not get bogged down with the newly announced Healey candidacy. The Republican Party has chosen to challenge Healey's candidacy. Before everyone jumps to conclusions and conspiracies, they should wait and see how the Board of Elections decides the matter and then to see what ideas Healey brings to the table.
Follow me on twitter @deedequattro
---
Dee DeQuattro is the assignment desk manager and digital news coordinator for ABC6. She studied politics and communications and holds a master's degree from Providence College. Follow her on twitter
@deedequattro
and log on to ABC6 .com for her latest in depth coverage of politics and news.