Dee from the Desk: Block speculates Republican Run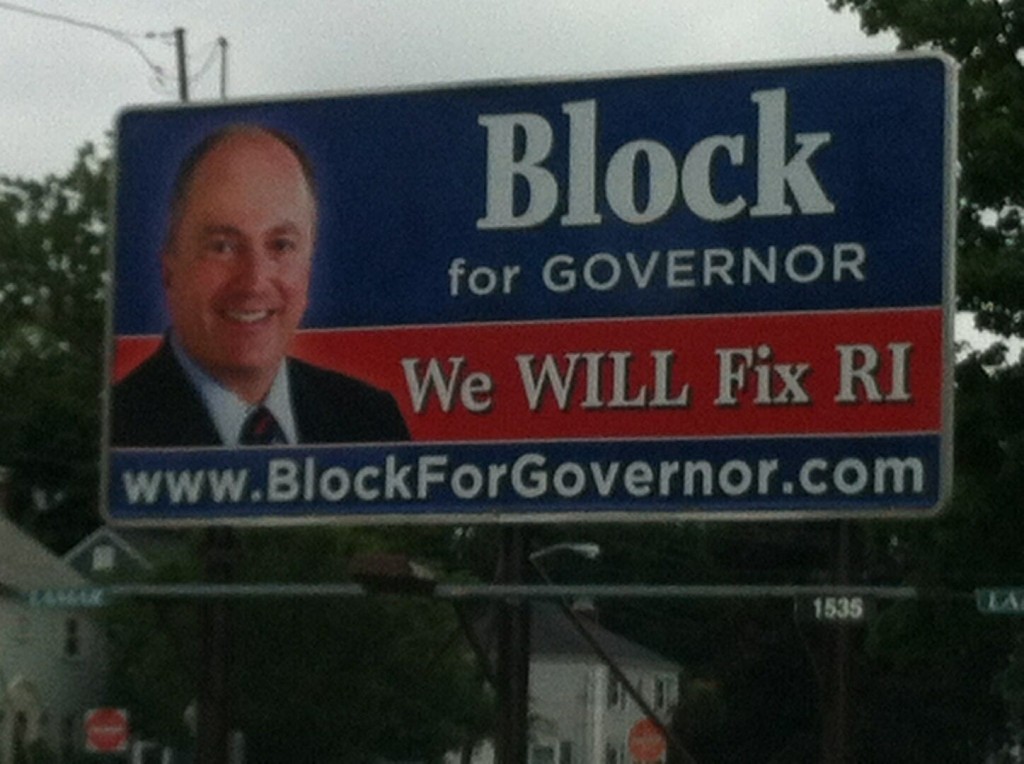 For the next two months you can expect to see a whole lot more of Ken Block.
Block, who has announced his candidacy for Governor as a Moderate, has put up 15 billboards throughout Rhode Island.
The billboards which expand the Ocean State and will be up for the next two months are part of Block's early name recognition campaign.
Two of the billboards appear in Cranston, the home of likely Republican Gubernatorial candidate Cranston Mayor Allan Fung.
Recently there has been some talk among political circles that Block, the founder of the Moderate Party may change his affiliation for the next election and run as a Republican. While right now this talk is just rumors it may not be entirely untrue. "I am looking at all the angles and researching all of the different ways under which I can run a successful campaign for Governor," said Block. "I will pick the path that is the strongest on for my success."
Notably the billboards, as pictured, are devoid of any reference to political party, however if you log onto Block's website included on the billboard, it states he is Moderate candidate.
If Block were to become a Republican he would have to change his affiliation within 90-days of the party's primary.
The Republican Party declined to make public comment on the issue.
When asked if Block would consider running as a Democrat Block noted that the race is pretty "full up," but that as a Moderate he could credibly run a "democrat" just as credibly as he could run as a Republican.
"At the end of the day what matters most is the actual person who becomes governor and what his and her skill set are," said Block. "RI has suffered for decades from a series of governor who could not lead."
Block said regardless of which party he is in he believes he is the strongest leader in the race.
Block had little to say on which Democratic challenger he would want to face if the primary was Providence Mayor Angel Taveras, Governor Lincoln Chafee, and General Treasurer Gina Raimondo. "If I had to pick which one to run against I view them as interchangeable," said Block noting that he feels none of the possibly Democrat challengers are equipped to deal with the economic problems of the state.
All-in-all Block said he is off to a good start with 16 months to go before the November 2014 election. "I'm a week or two away from having raised more money in this campaign cycle than I did in all of 2010," said Block. Block says he believes in the last fundraising period he raised roughly $53,000.
As Block continues to campaign and look into all his potential running options the question that remains in the balance is what happens to the Moderate Party if the founding member becomes a Republican. Block said that his question is something he is strongly considering as he makes his decision.
That said, he expects in the future months candidates for down ticket offices to step up.
Dee DeQuattro is the assignment desk manager and digital news coordinator for ABC6. She studied politics and communications and holds a master's degree from Providence College. Follow her on twitter @deedequattro and log on to ABC6 .com for her latest in depth coverage of politics and news.
---