Dee from the Desk: Clay Pell, is he for real?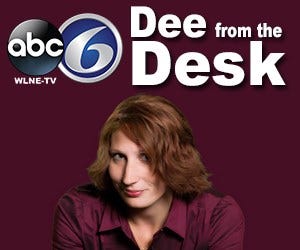 Lotsof attention has been paid to the wife of gubernatorial candidate Clay Pelllately.
OlympicFigure Skater Michelle Kwan is taking some slack for listing her hometown as Washington D.C. in anational Coca-cola ad.
Meanwhile,the actual candidate Clay Pell seems to be MIA. Literally. There have been noClay Pell public events recently and most of the press interaction he has had hasbeen through his well known spokesperson Bill Fischer, who by the way, will notbe the spokesperson much longer. Fischer announced that he will no longerbe working for the Pell campaign but instead pursuing other public relations endeavors.
Pellloaned his campaign $1 million and had all the pomp and circumstance of agubernatorial announcement but now it seems he is putting in a lack lustereffort while his two Democratic opponents, Gina Raimondo and Angel Taveras, areout in the community and hosting events. There is no question that Raimondo andTaveras are campaigning and are campaigning hard.
Somesay that Clay Pell just isn't a serious candidate. That he is following theBarry Hinckley philosophy. Remember when Barry Hinckley ran for U.S. Senate anda video of him speaking to business leaders surfaced where he said peopleshould just run for office to get their names out there, even if they can'twin. It wasn't a bad piece of advice and for someone like Clay Pell who has beenvirtually absent from Rhode Island politics over the past decade,it could work.
IfPell has his eyes on his grandfather's old Senate seat a gubernatorial runmight just do the trick to get his name out there while he waits, like a goodDemocrat, for either Sen. Sheldon Whitehouse or Sen. Jack Reed to move on. Somethink either Whitehouse or Reed may be up for some top national post. Manysuggest Whitehouse is a pretty serious contender for U.S. Supreme CourtJustice.
Thenthere is the Clay Pell conspiracy theory. Some politicos think Pell might be incahoots with Raimondo. It has been rumored that Pell may be a Raimondo plant tosecure a September Primary win for Raimondo in exchange for a future politicalappointment, possibly to the U.S. Senate if either Whitehouse or Reed grabs theirown political appointment. This is probably less likely the case, because many believeRaimondo has her own eyes on Washington,however in this state where political jobs are worth more than gold it is notentirely out of the realm of possibility.
Mostpolitical talkers seem to agree that Pell's entry into the race hurts Taverasnot Raimondo. The thought process is that Taveras and Pell will divide thepublic sector unions and Raimondo will prevail but attracting more independentdemocrats.
However,it is difficult to take the young candidate seriously when he has been so politicallyuninvolved that he has not voted in several elections. That is why it's likely thatPell is looking to return to Washingtonwhere he has made friends and a home for himself over the past several years whenhe was working for the United States Department of Education.
IfPell is a serious contender, which his $1 million investment would suggest, hemay just be aloof. Coming from Washingtonsociety to lil ol' Rhody might be a culture shock and he has not quite graspedhow to adjust. Pell has never ran for office before so this adjustment to astatewide campaign might be another struggle for the candidate. Nonetheless,Pell is managing to get attention, even if it is because of his famous wife.The problem is Pell needs to harness that attention and at the same time proveto Rhode Islanders that he is indeed a serious candidate and has plans for Rhode Island.People question Pell's dedication to the state and Pell needs to prove otherwiseif he has legitimate plans to be the next Governor of Rhode Island.
Follow me on twitter: @deedequattro
---
Dee DeQuattro is the assignment desk manager and digital news coordinator for ABC6. She studied politics and communications and holds a master's degree from Providence College. Follow her on twitter @deedequattro and log on to ABC6 .com for her latest in depth coverage of politics and news.