Dee from the Desk: It's beginning to look a lot like campaign season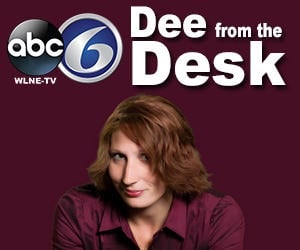 Just in case any one was doubtful: Providence Mayor Angel Taveras is planning to run for governor.
In an email to supporters Monday, Taveras said, "Last week, we shared some encouraging news with you about our internal poll results. As Peter mentioned to you then, I am using what we learned in that survey to inform the final stages of my decision-making about the 2014 governor's race."
While the email is an effort to fund raise, asking supporters for $7.000 in 7 days before the end of the third quarter, it clearly shows his intentions.
The email goes on to include a typical campaign jargon: "As I traveled around the city and state this weekend, it was encouraging to hear positive feedback about our work in Providence from residents of the capital city, as well our neighbors in Johnston at their annual Apple Festival, Warwick at the Save the Bay Beach Slam, and in West Warwick at the Centennial Ball and Parade. So many Rhode Islanders are facing real challenges, just like my family did when I was growing up. When I speak to people around the state, I can hear the struggle in their voices and see it in their eyes. Making ends meet is hard and the stagnant economy makes it even more difficult. The good news is, there is also a strong and sustained belief that with hard work and hope we will succeed together."
The question now is, when. Some speculate the October "tri-fecta," that is Angel Taveras, Allan Fung, and Gina Raimondo will all announce their candidacy next month.
When the announcements are officially going to take place is unclear, however, with over a year before the next election, it is starting to look a lot like campaign season.
Taveras, Fung, and Raimondo all made the rounds this weekend talking to Rhode Islanders and most of all selling themselves as "your next governor."
Fung has been the most clear about his intentions to run, publicly announcing his exploratory committee and making the rounds publicly with campaign adviser Patrick Sweeney.
Meanwhile, other candidates for lower offices are exploring possible runs.
Here are the short lists so far:
Lt Gov.:
Democrat- Cumberland Mayor Dan McKee (He has all but announced)
Democrat- Secretary of State Ralph Mollis (He is exploring too)
Gen. Treasurer:
Democrat- Frank Caprio (he has made his intentions public)
Democrat- Ernie Almonte (He has announced)
Secretary of State:
Democrat- Ed Pacheco (Says he is running)
Democrat- Guillaume de Ramel (has officially announced)
Democrat- Nellie Gorbea
Republican- Catherine Taylor (okay, she's been pretty quiet but she came very close last time so this would not be surprising)
Attorney General:
This office has been pretty quiet, with no major announcements.
It is likely Attorney General Peter Kilmartin will seek re-election and on the Republican side there is a possibility State Senator Dawson Hodgson a former state prosecutor and a member of the Senate Judiciary committee considers a bid for the office.
---
Dee DeQuattro is the assignment desk manager and digital news coordinator for ABC6. She studied politics and communications and holds a master's degree from Providence College. Follow her on twitter @deedequattro and log on to ABC6 .com for her latest in depth coverage of politics and news.