Dee from the Desk: King of the Hill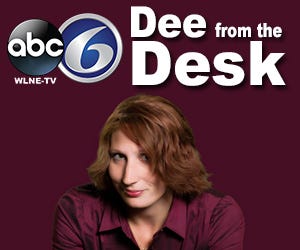 Who will be the next king of the hill?
Following the raid on the office of Speaker Fox and his subsequent resignation from the State House's top post, House Democrats have been scrambling and politically posturing to see who will take over.
On Sunday, current House Majority Leader Nicholas Mattiello announced he has secured enough votes to take over as speaker. Then on Monday, Frank Anzeveno who has been there as chief of staff through the past three House Speakers announced he was resigning and had packed up his office. Perhaps a little foreshadow of who he expects to win the speakership.
Anzeveno said he had planned to retire in June as he was aware that Fox would not be running again. This is telling in itself. Were Anzeveno and Fox aware of the investigation prior or has Fox simply had enough of being House Speaker?
Meanwhile all weekend Matiello and Rep. Michael Marcello have been politicking within the House of Representative to garner enough support to push them over the top and into the speakership. Both say if they win it will not be politics as usual in Rhode Island. Well Rhode Islanders have heard that before and they will believe it when they see it.
A new speaker will shake up leadership in the House which may have a strong impact on what legislation gets through for a vote and what legislation is dead on arrival.
The other dynamic that is really shaken up is the unison among the Democrats in the House. Battle lines have been drawn, people are picking sides and at the end of the Speaker's election there is likely to be a political aftermath, meaning if you didn't support the newly minted speaker, good luck being relevant, at least for a while in the General Assembly. It shouldn't be this way but that is just the simple truth of how politics operate. Committee chairs are expected to change and this too could have a huge affect on what legislation makes it to a vote.
There is likely to be a dramatic shakeup in the State House no matter who is chosen speaker and for a little while, at least, things may be run differently until everyone gets settled in their new roles.
Some of Fox's closest allies are falling short as they struggled to choose a clear candidate for speaker. There was talk that the speaker candidate would be Chris Blazejewski, then Stephen Ucci, and finally Michael Marcello. How were the Representatives supposed to support a candidate when they were not really sure who is. As a result Matiello swooped in and was able sure up the support of many of the Democrats and all but one of the Republicans (at least as of yesterday afternoon) and he is already planning his new leadership team, which will be ready to go if he is elected Speaker of the House.
As the State House gets ready to choose a new leader one thing is clear this will have a lasting impact on not only the legislation we see and the House of Representatives in general but also the Democratic Party.
The Speaker of the House is the person who selects the leader of the Democratic Party. Speaker Fox gave David Caprio the go ahead to become chairman of the party, will he enjoy the same support from a new speaker? Only time will tell but right now we know, the Democrats are in for some changes. When Bill Murphy resigned, he was able to support Fox as the next speaker. This time, Fox is staying out of it and it is really anybody's game. It will be interesting to see if Fox turns out for the new Speaker vote and if he votes.
Either way, game on! Expect to see a major shakeup on Smith Hill starting today.
Follow me on Twitter: @Deedequattro
---
Dee DeQuattro is the assignment desk manager and digital news coordinator for ABC6. She studied politics and communications and holds a master's degree from Providence College. Follow her on twitter @deedequattro and log on to ABC6 .com for her latest in depth coverage of politics and news.