Dee from the Desk: Pell's sense of humor about auto theft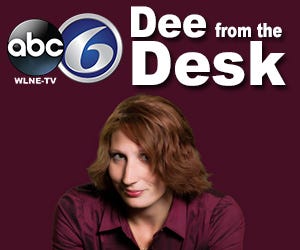 If your car got stolen could you afford to laugh it off?
Well apparently if you were Gubernatorial Candidate Clay Pell and his Olympic Figure Skater wife, Michelle Kwan, you could.
Recently, when asked about his 2010 Prius stolen from the streets in front of his East Side home, Pell told WPRO Radio, "It's an unfortunate thing but you got to have a sense of humor about it. We hope they recover it quickly but until then you got to have a sense of humor about it."
While it is nice that Pell is trying to stay positive, it comes across like he is out of touch with the everyday Rhode Islander. While the missing car may not be a big deal to Pell, the state has nearly a ten percent unemployment rate and a median household income of $56,000 (according to U.S. Census Statistics). As a result, it is unlikely that the average Rhode Islander can just "laugh it off" if their car gets stolen. It is probably devastating to their lives.
For most, it would mean having to take the RIPTA to work, or bum rides from family and friends, because they can't afford to miss a day.
Never mind, the nightmare of replacing the stolen car. If the person is not fully covered by insurance, which most people can't afford, they might be facing a huge economic loss, an economic loss that might be enough to devastate the entire household.
But, Pell who wants to be the next governor of Rhode Island can just laugh it off. Maybe it's because he left the key in the car, and realizes how ridiculous that may seem. According to a 2007 survey on behalf of the National Insurance Crime Bureau 79% of people surveyed always lock their car and 93% would never leave their spare keys in the car.
Meanwhile, grand theft auto is no laughing matter. Over 700,000 motor vehicles are stolen across the country each year. According to FBI statistics an automobile is stolen every 44 seconds. Instead of making light of a serious situation maybe Pell should have looked at it from a public safety perspective. Grand Theft Auto is a major crime and a major problem for many.
In actuality, Pell probably did not realize what he was saying. He was probably trying to stay positive and put on a good face but when you really think about the remark it really shows the disparity between some of Rhode Island's politicians and the rest of Rhode Island. While for some a stolen car is not a big deal, for most average citizens it is just unimaginable.
A new poll came out today showing that 82% of Rhode Islanders are unhappy with the state's leadership. Maybe that is because Rhode Island's high society, those elected to office, those who are a part of the State House pomp and circumstance every day just forget what life is like for those who struggle to pay the bills and care for their families.
The more entrenched politicians become the more they forget what it is like on the other side. How can Rhode Islanders trust someone who does not have a grasp on the everyday issues facing the average citizen to run the state?
Rhode Island politicians, not just Pell, need to be a bit more conscious about how their comments come across to the average citizen in the state before they make them.
Politicians should make a conscious effort to see just how difficult things are for people in Rhode Island instead of simply showing up for a photo opportunity and leaving. While Pell might not have meant anything by his off the cuff remark, it just shows that politicians need to start being more conscious about how everyday people might feel. If politicians start to pay more attention to the average Rhode Islanders perhaps the next leadership poll will have better results.
Follow me on twitter: @deedequattro
---
Dee DeQuattro is the assignment desk manager and digital news coordinator for ABC6. She studied politics and communications and holds a master's degree from Providence College. Follow her on twitter @deedequattro and log on to ABC6 .com for her latest in depth coverage of politics and news.