Dee from the Desk: Rumor has it…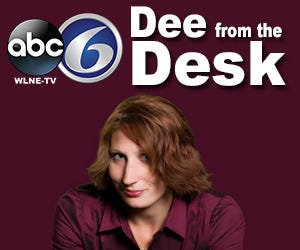 Political talk is getting ripe as the summer is coming to an end and here is what has been floating through "political circles" over the weekend.
We thought the days of fake friends were over after Anthony Gemma lost the Democratic Primary and slid off into political oblivion but alas they are back. Has anyone else been followed on Twitter by "FakeKenBlock," "FakeRIGeneralAssembly" "FakeLincChafee" "FakeGinaRaimondo" "Fake MikeSoloman" and "Fake Angel Taveras." Conveniently every speculated gubernatorial candidate except for Cranston Mayor Allan Fung has a parody account that started recently… Something tells me a Fung supporter is definitely up to this. While the accounts are cute.. and I'll give it to you, funny… but it seems like a petty campaign strategy… but perhaps this is new-age politicking.
Speaking of Allan Fung…he's got some competition. Ken Block has been making the Republican rounds recently and looks like he is pretty serious about challenging Fung in a Republican primary. Block's gaining support too. At least in the East Bay area.
Ken Block and Allan Fung better both watch out because rumor has it business man Karl Wadensten owner of VIBCO is going to start his out "viral" campaign for governor focusing on Facebook, Twitter, and Youtube. While he may be hesitant to buy billboards like Block, Wadensten has a lot of friends with money, so if the viral campaign goes well, he could be a powerful new contender.
Not to mention rumor in Republican circles is Wadensten and Block are not the only businessmen considering the state's top job, another well-known businessman is expected to step up and throw his hat in the ring… stay tuned for that.
---
Dee DeQuattro is the assignment desk manager and digital news coordinator for ABC6. She studied politics and communications and holds a master's degree from Providence College. Follow her on twitter @deedequattro and log on to ABC6 .com for her latest in depth coverage of politics and news.