Dee from the Desk: The Alpha Dog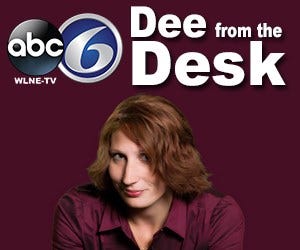 Hamsters, tiger sharks, and some species of spiders are all known to eat their young. For these creatures sometimes it is pure instinctual.Not that they necessarily want to see an end for their own kind but more that they can't help themselves. This is not unlike some members of the Rhode Island Republican Party.
On Friday, the Pawtucket GOP, (yes, surprisingly that doesexist), chose to endorse Mayor Allan Fung for Governor over his challenger, former Moderate Party Chairman Ken Block.
For its part the Pawtucket GOP said, in a press release:
Additionally, and most importantly, Mayor Fung said thatalthough he would be disappointed if he did not win the Republican primary, hewould gladly assist Mr. Block, if asked, in the general election. "I'vebeen helping Republicans get elected for over a decade."
"When Mayor Fung said that, it was in sharp contrast to Mr.Block's presentation, in which he flatly said there was only room for 'one alpha dog at the top' and that he would not assist Mayor Fung at all if he didn't get the nomination," said Ken Postle, who attended both meetings. "To me, it showed very clearly who was for the party and who was for himself."
On the other hand, the Block Campaign said that the Pawtucket GOP has taken the comments completely out of context. According to Block Campaign staffers, Block was simply responding to a question if he lost the primary whether he would use his ideas to help Fung become the next governor not whether or not he would support Fung for Governor. The Block campaign said that in the event that Block lost the primary, Block, of course, would support Fung.
Out of context or not the comments do look bad for Block, who is already facing questions regarding party loyalty since last election he ran as a Moderate and many people blame him for Republican John Robitaille losing to Lincoln Chafee. In addition Block is also on the record as supporting President Barack Obama… twice. As a result it is understandable why some Republicans may question Block's party loyalty.
Maybe Block would vote for Fung in a General Election but would not give him a ringing endorsement, or share his ideas for the office. This would be in line with the history of the RI GOP where many candidates who have lost in the primary just fade away into the political abyss and are never heard from again. Remember Victor Moffit? Hechallenged John Robitaille in a primary. After the election Moffit disappeared from public life and didn't share his ideas with Robitaille.
In Block's defense, if his comments are being taken completely out of context, it would go to show just how ugly things are getting in the Republican primary. Battle lines are clearly being drawn and nobody is hesitating to take even the minutest slip of the tongue straight to the press. And this goes back to eating their own.
Democrats do not typically air all their dirty laundry allover the media. For instance, if Gina Raimondo were to say at a meeting of the Pawtucket Democratic Committee that she would never support Angel Taveras for Governor if he won the primary it is doubtful the committee would then take that tidbit to the press. I am sure that detail would be shared around the Democratic insiders who would work to either make sure Raimondo got back ontrack with her messaging or never ran again. But it would not make it to the press because then everyone would look bad; Raimondo would look bad, the Pawtucket committee wouldlook bad, and Angel Taveras would look bad.
Here it is the same thing. The Pawtucket Committee looks badfor airing their dirty laundry to the press, Ken Block looks bad for making thecomments no matter what context they were in, and finally Allan Fung looks badbecause he is being criticized, publicly now, by his opponent.
The silliest thing is that in reality Block's Plan and Fung'splan are probably ultimately very similar, at least they are certainly moresimilar than the Democrats' plans. Both candidates and their supporters need to commit to supporting the candidate that prevails in the primary instead of bitterly holding a grudge. When Patrick Lynch backed out of the Primary againstFrank Caprio, he threw his support behind Caprio in a public appearance. There were no questions; there was no bitter grudge that made it to the media. If Republicans are serious about electing a Republican Governor they need to unify. Instead of attacking each other in constant press releases, maybe both candidates and the Republican committees should focus on going after the Democrats and their plans. Instead of making the Republican primary more divisive in the media and smearing mud all over each other they should focus on slinging the mud at the Democrats.
And just to be clear, Ken Block is right, there can only be one Alpha Dog and in Rhode Island that Alpha Dog will always be a Democrat while Republicans will always be the under dog struggling to overcome a machine. Instead of all the in fighting insidethe Republican Party, the members would do well to recognize that ultimately they are wearing the same jersey and this is just a scrimmage. They need tofocus their aims on the Democrats not each other if they ever hope to wins any statewide office.
Follow me on twitter @deedequattro
---
Dee DeQuattro is the assignment desk manager and digital news coordinator for ABC6. She studied politics and communications and holds a master's degree from Providence College. Follow her on twitter @deedequattro and log on to ABC6 .com for her latest in depth coverage of politics and news.