Dee from the Desk: The Block Plan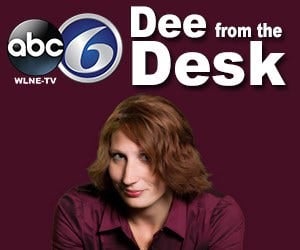 In a surprise announcement at TACO Industries on Tuesday gubernatorial candidate Ken Block announced: he is running for governor!
Block, who has been in the race even before he became a Republican over the summer, rolled out his gubernatorial platform on Tuesday. The platform included a couple of innovative ideas that were sure to capture the ears of some Rhode Islanders. The announcement also included a few subtle blows at Allan Fung, Block's opponent in the Republican primary.
Block's plan, "The Block Plan," included slashing the car tax by thirty percent, cutting the corporate tax from 9% to 7% and cutting the estate tax. He also said he would consider a test program to cut the sales tax.
Block said that he would also aim to reform the state's unemployment insurance program and temporary disability program. In addition, he said he would seek to eliminate the state's paper time card system.
While Block's plan is focused centrally around the state's budget, Fung's plan is focused on the creation of 20,000 jobs. Block took a slight jab at this plan when he noted it is not the Governor's role to create jobs but instead to encourage a healthy economy where jobs will thrive.
The setting of the announcement can't be ignored either. Block strategically announced his plan at TACO Industries, the site of Allan Fung's gubernatorial announcement. Meanwhile, John Hazen White, CEO of TACO Industries, said he is not making an endorsement.
Another interesting tidbit is that yesterday's announcement, was not only at the site of Fung's announcement but it took place on Fung's birthday. This was most likely a coincident but still a politically interesting one.
While Block has rolled out an ambitious and what seems to be an exciting plan to most Republicans the one thing he did do that, unfortunately, most Republican candidates do, is look down upon Rhode Island.
Block made a remark saying that Rhode Island is in the "national Hall of Shame." Block referenced the poor economic climate and high unemployment rate to back his claim up. He is certainly not wrong that the state has it's issues, however, Republicans often forget how much Rhode Islanders actually love Rhode Island.
The Republican Party was once behind an effort called, "Rhode Island ranked last," where it looked at all the things Rhode Island is bad at. Maybe it is time instead of thinking how bad our state is, candidates, like Block, could place the blame on leaders not the state.
Maybe it's time for the Republican Party to embrace Rhode Island and all the great things it has to offer instead of focusing on how terrible it is. This is one thing Democrats seem to do and do pretty well. It is not often you hear a Democrat talk about how bad our state is instead they point to all the opportunity there is and ways to make it better.
There are things about Rhode Island that you can only find in Rhode Island and it is one of the reasons many people never leave.
Maybe Block was going for the tough love approach and he did have a point but Rhode Island is like a bullied kid at recess; if you never think positively about yourself, others will not either.
Nonetheless, Block did roll out an interesting plan and offered some real solutions for Rhode Island. Now it is up to the voters to decide over the next few months if the Block Plan is the best plan to get Rhode Island back on track.
Follow me on twitter: @deedequattro
---
Dee DeQuattro is the assignment desk manager and digital news coordinator for ABC6. She studied politics and communications and holds a master's degree from Providence College. Follow her on twitter @deedequattro and log on to ABC6 .com for her latest in depth coverage of politics and news.