Dee from the Desk: The Elephant in the Room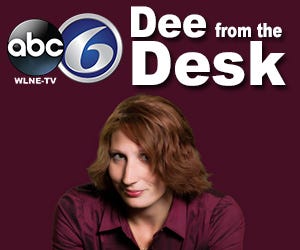 There is an elephant in the room and every one is whispering about it.
The vultures are beginning to circle around David Cicilline as rumors of his possible involvement in the Gordon Fox scandal are flying in every direction. You can blame talk radio, you can blame bloggers but it doesn't' detract from the fact that accusations are flying in almost every political circle. Some exonerate Cicilline, some convict him; Either way the rumors center around the congressman from the First Congressional District and the Providence Economic Development Partnership and these rumors are catching the ears of political potentials.
John Loughlin, the former challenger to David Cicilline, announced on Tuesday that he is considering a run. It would be interesting to know if he still was considering this run prior to the news about Gordon Fox and the federal investigation. Then there is the rookie, 29-year-old Cormick Lynch. Lynch was going to enter the race prior to the Fox investigation but either way the rumors about Cicilline have to be welcome news to the political newcomer.
Then there is former Alex and Ani CEO Giovanni Feroce who is also considering his options.
Let's not forget the candidates who are already running but are probably also watching the Cicilline race closely.
Ken Block would easily be able to step in and challenge Cicilline especially if Cicilline was in some sort of trouble. Although Block has been focused on the Governors race and his campaign notes he would not be interested in the seat.
On the other side of the aisle, Democrat Gina Raimondo would also be another candidate who could step in and grab the seat if anything were to happen to the incumbent. LT. Governor Candidate Dan McKee is likely also to have his eyes on the seat if anything were to happen although he would be tough pressed to match Raimondo and her millions.
While all the posturing is going on and people have their eyes on the seat and Republicans are suddenly gaining courage they didn't have three months ago, it might be wishful thinking.
Federal investigations last years. Let's take a look at the famous Operation Plunderdome. In 1999 federal officials executed a search warrant on Providence City Hall. It was not until nearly 3 years later in 2002 that Mayor Cianci was indicted. It started with the indictment of the Tax Board Chairman and eventually led all the way up to the mayor, but it took years.
If you look at the Mayor Chuck Moreau of Central Falls, the investigation began in 2010 it was not until 2012 that he resigned as mayor and was indicted.
So right now, in the Fox situation, Fox has not been indicted or faced any trouble yet. People shouldn't expect this investigation to lead to anything bigger until we learn the fate of Fox. It would be a rare thing for the federal investigation, especially one of the magnitude many believe this to be, to be over by the summer, conveniently in time for the election.
So Democrats who have had their eyes on Cicilline's seat can basically count it out and Republicans hoping for a federal indictment for a Congressman who may or may not be under investigation should not hold their breath.
Candidates entering this race need to enter for the right reason, not just because they have personal Washington aspirations and they think they will win because they suspect the Congressman may be in trouble. That's an opportunistic approach.
If you are running and you have ideas and want to make change then do it. If you are planning to run because you think Cicilline may be vulnerable, think again. Cicilline scrapped through in an election that he had 19% approval against the highly popular and well-known Brendan Doherty. He most likely can survive a few rumors, because unless something happens that is all they are right now.
---
Dee DeQuattro is the assignment desk manager and digital news coordinator for ABC6. She studied politics and communications and holds a master's degree from Providence College. Follow her on twitter @deedequattro and log on to ABC6 .com for her latest in depth coverage of politics and news.