Dee from the Desk: The year Ralph Mollis saved Christmas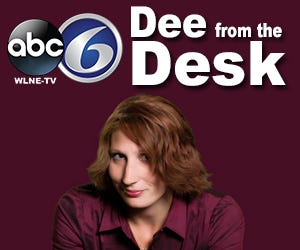 It will forever be remembered as the year Ralph Mollis saved Christmas.
Alright that might be an exaggeration, but for the first time since taking office Governor Lincoln Chafee has backed down on an issue he was originally taking a strong stance on, the Rhode Island Christmas Tree, (or holiday tree, or blue spruce, or really whatever you want to call it.)
The Christmas enthusiasts have won, and Sec. of State Ralph Mollis will light up all their hearts with joy as he, not Chafee, presses the button at the tree lighting.
While in the headlines Mollis's role in the whole "Christmas miracle" is being lost, it is not insignificant. It is also not insignificant that the first year Chafee is a Democrat, is the first year that it is "Christmas" at the State House again.
As a newly minted Democrat, Chafee just gave the party and a Lt. Governor Candidate an assist.
Past polls have shown the majority of Rhode Islanders prefer the term Christmas tree. By letting the issue go and allowing Mollis to be a hero, Chafee has saved the Democratic party some drama and has put Ralph Mollis on the more popular side of a very controversial issue.
For his part, Mollis has to just smile, say "Merry Christmas" and press a button, but the pressing of that button is sure to play favorably for Mollis in the minds of Christmas enthusiasts. Not to mention inside the Democratic Party where Mollis faces a primary for Lt. Governor against Cumberland Mayor Dan McKee.
The situation is a true win for Mollis, Chafee, and the Democrats. Chafee gets to avoid the drama inspired by the Christmas tree debate, Mollis gets to stand-up for Christmas while at the same time looking like a good guy for doing his fellow Democrat, Chafee, a favor by hosting the lighting, and the Democrats don't get branded the "anti-Christmas" party or have to deal with any of the Christmas tree backlash from the RIGOP.
And so the Chafee's Christmas Controversy has finally ended and he along with his newly founded political allies have come out on top. With that, "a Merry Christmas to all and to all a good night."
---
Dee DeQuattro is the assignment desk manager and digital news coordinator for ABC6. She studied politics and communications and holds a master's degree from Providence College. Follow her on twitter @deedequattro and log on to ABC6 .com for her latest in depth coverage of politics and news.