Dee from the Desk: Throwing your hat in the ring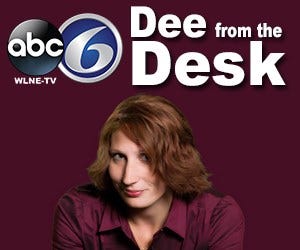 Come one, come all, and throw your hat into the ring to be the next state representative, senator, governor, or what ever your heart desires, now is your chance.
People are lining up at their local city halls and filing their candidate declarations forms.
There have been a couple of surprises as some last minute candidates are throwing their hats in the ring.
Former Chairman of the Republican Party and two-time Congressional Candidate Mark Zaccaria says he will challenge Jack Reed in the U.S. Senate race this year. This announcement comes after Ray McKay was told he could only run for office if he left his job with Warwick City Hall due to an ordinance that bars certain city employees from running for office and working for the city. Its good that the GOP is putting up a candidate but the chances of overcoming a popular Senator like Jack Reed with such little time to fund raise and spread your message is slim.
Meanwhile Libertarian radio host, musician, Tony Jones says he is running for Lt. Governor since Bob Healy won't. Jones says he will run under the same premise as Healy, to abolish the office.
It also appears that the GOP has done a good job courting the ladies to run for office. Several women have stepped up to the plate and say they are going to make it into the General Assembly. Aside from Rep. Patricia Morgan and Rep. Doreen Costa who are already elected, Sharon Gamba is running for State Representative in North Kingstown, Ana Santana is running for State Representative in Providence against Representative Anastasia Williams. Republican Lacey McGreevy is taking on Democrat Spencer Dickinson down in South Kingstown and Republican Lillian Jean Delmonico is running for State Representative in District 41 against Rep. Michael Marcello.
Also, Republican Kimberly Ann Page has filed to run for State Senate in District 35 setting up a Republican primary against Republican Mark Gee.
Former Republican State Representative Dan Reilly is trying to make a political comeback in this election running for State Representative in District 72. Reilly at one time was the youngest elected State Representative. He was ousted by Democrat Linda Finn is 2012.
On the Democratic side 37-year-old Anthony Roberson, a Providence Police Officer is making a run for State Representative in District 12. Roberson will challenge sitting State Representative Joseph Almeida. This is likely to be an interesting race because Almeida is not necessarily a shoe-in for re-election. In 2010, former State Representative Leo Medina beat Almeida by a handful of votes. If Roberson is able to hit the pavement hard and spread his message he might have a shot at overcoming the incumbent.
Meanwhile on a local level in Providence two Republicans are going where no Republican has gone before (joking) and running for city council. Republican Roy David Bolden is running in Ward 11, the seat currently held by Davian Sanchez. Sanchez is facing a four way Democratic primary this year with Democrats Francisco Franco, Mary Kay Harris, and Dirk Hennessey also declaring for the seat. Republican Michael Long, a Cranston Police Officer, is also making a run for Providence City Council as a Republican. Long, an army veteran who served a tour of duty in Afghanistan, says he plans to challenge incumbent Seth Yurdin in Ward 1. Yurdin is facing a primary with Malcolm Reid Jr.
There are some names you might not recognize that have filed for office like Kate Fletcher and Leon Kayarian. These two have filed as independent candidates for Governor of Rhode Island according to the Secretary of State's website.
Additionally, Independent Pamela Azar has entered the race for Secretary of State and there is still no Republican running for General Treasurer.
---
Dee DeQuattro is the assignment desk manager and digital news coordinator for ABC6. She studied politics and communications and holds a master's degree from Providence College. Follow her on twitter @deedequattro and log on to ABC6 .com for her latest in depth coverage of politics and news.