Dee from the Desk: Top ten political moments of 2013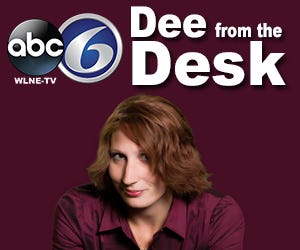 10. Ernie Almonte decides to run for treasurer, not governor… the first candidate to announce for Governor was the first candidate to bow out. Former State Auditor General Ernie Almonte made the decision to not run for Governor but instead with his background as a CPA, he will seek the nomination as a Democrat for General Treasurer.
9. Caprio returns from the political unknown… News that Frank Caprio is back and wants to be your General Treasurer again was surprising to many since Caprio has largely disappeared from public life after placing third in the 2010 Governor's race. Many say Caprio's defeat in 2010 was in a large part due to the famous "shove it comment" directed towards President Obama.
8. Gina Raimondo, Angel Taveras, Allan Fung, and Ken Block all announce their candidacy for governor… Two Republicans and two Democrats have officially declared their candidacies for Governor and the political back-and-forth has already begun. Ken Block and Allan Fung have wasted no time in letting their campaigns take public shots at one another and Taveras has already thrown a few jabs Raimondo's way.
7. Gina Raimondo's big announcement… Speaking of announcements, The Gina Raimondo YouTube announcement was a cause of a lot of talk in the blogosphere. Some accuse Raimondo of trying to dodge the tough questions from the media, others have described the video as bizarre and still others were excited by the announcement. The video message was a twofer in that it explained the reasons for her run and wished Rhode Islanders a Merry Christmas.
6. It's Christmas at the Statehouse… and all the whos and whooville rejoiced. Governor Lincoln Chafee gave up the "Holiday Tree" battle and let the Christmas enthusiasts prevail. This year the Statehouse tree would be called a Christmas Tree but Chafee would not be around to light it. Instead Secretary of State and candidate for Lt. Governor Ralph Mollis pulled the switch. Chafee gave up the Holiday Tree battle after two tumultuous years of protests and national media coverage.
5. The Exeter Recall… It was a battle over the Second Amendment. Citizens in Exeter angered by the Town Council's decision to request that the gun permits be issued by the Attorney General's office decided to take action. They collected over a thousand signatures calling for the recall of four of the town council members. In the end they lost the recall effort however they showed Rhode Islanders that they can take political action if they are unhappy with their elected officials.
4. Chafee becomes a Democrat… after speaking at President Obama's Democratic National Convention in 2012 it was speculated that Governor Chafee would seek re-election as a Democrat. Questioned several times on whether he would become a Democrat Chafee never shied away from the idea and then the announcement came from Washington as President Obama welcomed Chafee to the party and Chafee headed to Warwick town hall to affiliate as a Democrat. Now Chafee has held elected office as a Republican, Independent, and a Democrat.
3. Ken Block abandons the Moderate Party…In 2010 Block insisted the two party system was broken and that was why he was founding the Moderate Party. But this year Block announced that he is leaving the Moderate Party behind and running again for Governor, this time as a Republican. Block faces a challenge in the Republican party as many still blame him for spoiling the 2010 Gubernatorial election for John Robitaille. Meanwhile, the Moderate Party still exists, for now.
2. Chafee decides not to run… In a surprise press conference in front of the Cranston DMV Governor Chafee announced that he doesn't want to be Governor for another four years. Chafee touted his accomplishments, cutting wait times at the DMV and signing same sex marriage into law, while mentioning the negativity surrounding the governors office. This announcement cleared the field for other gubernatorial hopefuls including Gina Raimondo and Angel Taveras. The question now is who gets the Chafee endorsement and is that a good thing or a bad thing?
1. Same sex marriage… Rhode Island became the tenth state in the nation to approve same sex marriage. After decades of debate, Rhode Island (now the second most Catholic state in the country, edged out by Massachusetts last year) passed same sex marriage and even the Republicans were on board. In fact the entire GOP Senate caucus signed on. Following the approval of same sex marriage Senator Donna Nesselbush married her partner and a short time later Speaker of the House Gordon Fox married his.
---
Dee DeQuattro is the assignment desk manager and digital news coordinator for ABC6. She studied politics and communications and holds a master's degree from Providence College. Follow her on twitter @deedequattro and log on to ABC6 .com for her latest in depth coverage of politics and news
---