Dee from the Desk: Who will challenge Cicilline?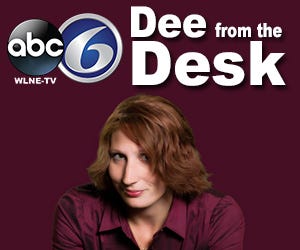 Are the Republicans giving Congressman Cicilline a pass in 2014? While a heated Republican primary has emerged for the race for governor, and there might even be a Republican primary for Congressman in the Second Congressional District; no candidates have announced plans to challenge Cicilline.
Maybe the Republicans are raising the white flag after their strongest candidate in years, Former Colonel of the State Police Brendan Doherty lost in 2012. It's too bad that Doherty has moved forward with his life and has decided not to run again because in the off year election Doherty would stand a very strong chance of winning the election. Doherty was a strong candidate in 2012 but he was going against one of Rhode Island's most skilled politicians in a year where the Democratic president was up for re-election and there was an "anti-Republican" sentiment sweeping the blue states.
This year the voter turnout in Rhode Island will be a lot less than it was in 2012. People who came out to vote for Obama in 2012 and as a result also voted for the other Democrats on the ballot are less likely to turn out for this election. Historically voter turnout is substantially lower during midterm elections. Not that there is not a lot at stake but mostly because people are apathetic about politics and don't pay enough attention to politics to either be excited about a candidate or really feel strongly enough to go out of their way on election day and cast a ballot.
So if Doherty is out, is this it for Republicans? No one else will step up and run? In hindsight Ken Block would have been a good challenger to Cicilline. Block lives in the First Congressional District, he has money to mount a run, and he is a more moderate Republican. A strong conservative candidate can't survive the First Congressional District but a candidate like Block could because he is able to use his ideas to appeal to people on both sides of the aisle. Fung could arguably do the same however he has less money to mount the run and he can't run in the First Congressional District because he lives in the Second.
Since it is completely unlikely Block would ever abandon his gubernatorial run to run for Congress, (and he should not be asked to since his ideas cater to fixing Rhode Island, not fixing the United States) it is unclear who the Republicans could recruit.
The problem is most of the strong Republican candidates live in the Second Congressional District, which makes sense because most of the more conservative towns are in that part of the state. In addition, it is pretty late in the game for an under funded candidate to step in, so the candidate who ran would have to have some of their own money.
One possible candidate the Republicans could try to recruit in the First Congressional District is Giovanni Feroce. Recently unemployed after leaving his position as CEO of Alex & Ani, Feroce, a Newport resident, has both the money and the name recognition to take on Cicilline. Feroce is also well spoken, media savvy, and knows how to market himself. Being in the public spotlight would not be a struggle for him as it was for Doherty and Feroce is probably more apt to fire back at any attacks from the Cicilline Campaign as well. If the Republicans were able to recruit Feroce he would be strong candidate for the party and be one of their best chances of victory.
A congressional race against Cicilline is one of the more winnable races for Republicans. At least it is a lot more winnable then trying to take out U.S. Senator Jack Reed who remains popular throughout the state. The party should be working to find someone to run against Cicilline, instead of giving the candidate a pass.
Party insiders say that there is a candidate and an announcement is coming but for now mum is the word. Republicans should hope that is the case becase it looks bad that the Republicans would let Cicilline, who they frequency criticize for the problems faced by the city of Providence, just slide back into office with no opposition whatsoever.
The Democrats would never let such a major office go unopposed and now it is time for the RI GOP to step it up and mount a candidate or make an announcement.
---
Dee DeQuattro is the assignment desk manager and digital news coordinator for ABC6. She studied politics and communications and holds a master's degree from Providence College. Follow her on twitter @deedequattro and log on to ABC6 .com for her latest in depth coverage of politics and news.