DEM Ramping Up to Deal With Emerald Ash Borer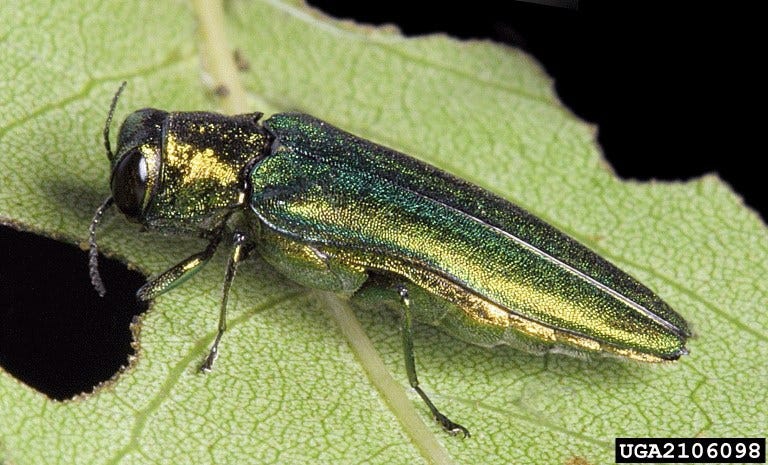 By: Tim Studebaker
Facebook: @TStudebakerABC6
Twitter: @TStudebakerABC6
Email: tstudebaker@abc6.com
PROVIDENCE, R.I. (WLNE) – There's a new bug on the block: the Emerald Ash Borer Beetle, and it's after some of Rhode Island's trees, the Ash Tree.
RI DEM Urban & Community Forestry Program Coordinator Caroline Scanlan is helping cities and towns respond to the problem.
Scanlan says, "The larva, once they hatch, they'll burrow underneath the bark, and they'll feed in these S–shaped patterns."
That, she says, will eventually kill the tree. It's a relatively new problem in the US, coming from eastern Asia.
Scanlan says, "It was first detected in Detroit, Michigan in 2002."
It was first found here in Rhode Island last summer.
RI DEM Forest Health Program Manager Paul Ricard works to track the pest's movements around the state.
Ricard says, "We've found them in the extreme northwest corner in Burrillville, the extreme northeast corner in Cumberland, Westerly, Richmond/Hopkinton area, and Providence."
From those locations, the beetles can spread, which could have devastating effects if nothing is done to stop it.
Scanlan says, "We can certainly expect things to get worse. We're at the beginning stage of the infestation, and it's likely that all untreated Ash Trees in Rhode Island will eventually die due to Emerald Ash Borer. We're talking around 10 years from now is generally what the research says."
Efforts are ramping up now to prevent that from happening, using insecticides.
Ricard says, "The mortality rate with Ash is 99.6%. That's going to have an impact on the ecosystem."
The DEM, along with the Newport Tree Conservancy will answer questions about the beetle Wednesday night at the Newport Public Library.
You can also find more information here: http://www.dem.ri.gov/programs/forestry/forest-health/emerald-ash-borer/
© WLNE-TV / ABC6 2019