DEM stocking ponds and rivers with trout across Ocean State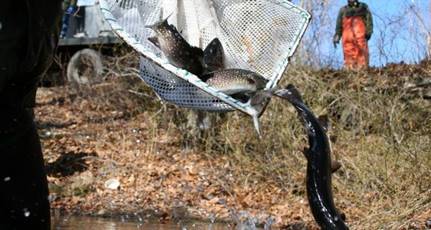 PROVIDENCE, R.I (WLNE) – The Rhode Island Department of Environmental Management is stocking ponds and rivers across Rhode Island with trout in advance of Veterans Day.
The DEM says this is a popular time for recreational fishing.
Due to improved water conditions, some areas that were not stocked with trout in October will be stocked.
For additional information and daily updates , follow DEM's outdoor education page on Facebook, or call 401-780-0281.
The following waters will be stocked with trout beginning Monday, November 9:
● Charlestown:
Kings Factory Bridge, Pawcatuck River
*Lower Shannock Brook, Pawcatuck River
● Exeter:
Barberville Dam (above), Wood River
165 Check Station, Wood River
● Hopkinton:
Bradford Fishing Area, Pawcatuck River
Wyoming Pond, Wood River
*Hope Valley Fishing Area (Dow Memorial Field), Wood River
● Foster:
Shippee Sawmill Pond
● Richmond:
Carolina Trout Pond
Meadowbrook Pond, Wood River
Woodville, Wood River
Cronan Landing, Pawcatuck River
Grantville Rt. 95 overpass, Wood River
● Scituate:
Hope Dam Fishing Area, Upper Pawtuxet River
● Tiverton:
Stafford Pond
©WLNE-TV/ABC6 2020