DEM to conduct surveys for tree killing beetles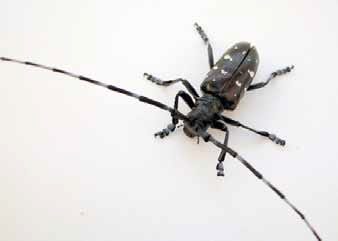 Alexandra Siegel
The RI Department of Environmental Management will conduct tree surveys this month for the Asian Longhorned Beetle. These insects came to the United States from China and Korea in wooden shipping crates over 17 years ago. The beetles burrow into the core of maple, ash, willow, birch, and elm trees, affecting the hardwood and eventually killing the tree. If left undetected, these beetles have the potential to wipe out thousands of the state's trees.
Through cooperative efforts with Animal Plant Health Inspection Services and the USDA, the DEM will begin surveying August 1st in Exeter at Browning Mill Pond. Other survey locations are expected to be Otis Farm Preserve on Scott Road in Cumberland on August 8th; and Goddard Memorial State Park in Warwick on August 20th.
Participants of the survey, dressed in "ALB Survey" shirts, will be using binoculars to inspect hardwood trees for signs of exit holes and egg-laying sites. By capturing the ALBs, the Rhode Island DEM will be able to verify if they are present in the state.
When left undetected, they can be unintentionally transported in firewood that have not been treated. To help with the prevention efforts, Rhode Island residents should purchase firewood from local sources and not out of state.
Invasive species is one of the top four threats for the US Forest Service, with infestations costing $138 billion per year in related control costs and total economic damages in the United States. If the spread of these non-native insects is not stopped or detected early enough in the state they could lead to millions of dollars in damages for eradication, clean-up, and replanting efforts.
Graphic courtesy of www.dem.ri.gov