Derek Army Signs With ECHL's Wheeling Nailers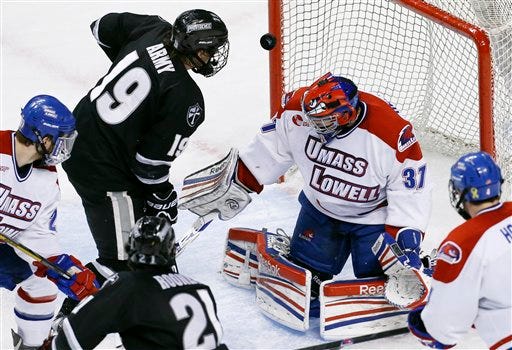 Providence College Press Release
PROVIDENCE, R.I. – Senior men's ice hockey forward Derek Army
(North Kingstown, R.I.) has signed with the Wheeling Nailers of the
East Coast Hockey League (ECHL). The Nailers have four games remaining
on their regular-season schedule and are currently seventh in the
eastern conference.
Army played all 149 games of his Friar career, setting the program
record for consecutive games played and landing tied for second in the
Providence College record book for career games played, trailing only
his father, Tim Army `85 (151).
After scoring a pair of game-winning goals in Providence's Hockey
East Quarterfinal sweep of Maine (March 14-15), Army was named the
Warrior Co-Player of the Week by Hockey East (March 17). In game one
(March 14), Army scored what proved to be the game winner in
Providence's 3-1 victory over the Black Bears at 6:57 of the first
period. Then in game two (March 15), Army netted the game-winning goal
at 8:31 of the second period as the Friars came back to defeat Maine,
4-2.
For the season, Army netted eight goals and added 10 assists for 18
points in 39 games. He was Providence's sixth-leading scorer and part of
a balanced attack that saw 10 players notch at least 15 points on the
season.
As an assistant captain, Army helped lead the Friars back to the NCAA
Tournament for the first time since 2001 and to their first NCAA
Tournament win, a 4-0 first round blanking of Quinnipiac (March 28),
since 1991.
Army finished his Friar career with 38 goals and 38 assists for 76
points. He also helped the Friars to three consecutive Hockey East
Semifinal appearances for the first time in program history. He will
join former teammate Myles Harvey '13, who has played 30 games on the Nailers' blue line, notching three goals and adding two assists for five points.