Despite hiccup, Rhode Island Senate sends all three gun reform bills to McKee's desk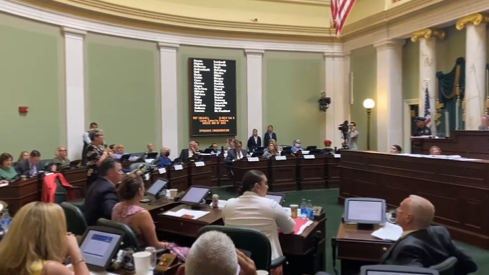 PROVIDENCE, R.I. (WLNE) — The Rhode Island Senate passed three gun reform bills, sending the bills to Gov. Dan McKee's desk Tuesday night.
The Senate voted 31-5 on bills that raise to the age to purchase firearms and ammunition to 21 and to bar open carry of rifles and shotguns, with a hunting exemption.
The most debated bill, a measure to limit the amount of rounds a high-capacity magazine can hold to 10, passed on a 25-11 margin.
All three bills previously were passed by the House Friday night.
Following the passage of the high-capacity magazine bill, a group of second amendment supporters started to chant "vote them out," and the gallery was cleared after a previous warning by Senate President Dominick Ruggerio.
A vote on that bill took a different route after the Senate Judiciary Committee voted down the companion Senate version bill on a 6 to 6 tally.
However, Senate Majority Leader Michael McCaffrey moved to have the House version be brought to the Senate floor under "immediate consideration" which bypassed the need for a committee vote.
That vote, which required a two-thirds majority, passed 25-10.
"My image of this chamber is tarnished after how we got here tonight," said Sen. Gordon Rogers (R-Foster) after the vote to move the bill immediately on to the Senate calendar.
Several amendments were introduced, including two grandfather clauses and exceptions for several classes of people, all of which were not approved.
"We are not taking anyone's right away," said Sen. Lou DiPalma (D-Middletown) who became emotional while sharing his personal connection to the Sandy Hook tragedy.
"If Adam Lanza had to stop and reload, maybe Chase (Kowalski) would be alive," emotionally remarked DiPalma.
Supporters of the measure argued that high-capacity magazines are the main culprit in mass shootings.
"We don't want to wait here for a mass shooting to happen in Rhode Island," said Sen. Cynthia Coyne (D-Barrington).
"I want to acknowledge its even a measure to protect those that don't know that they need it," said Sen. Cynthia Mendes (D-East Providence).
Opponents of the bill argued it's taking away the rights of law abiding citizens.
"The issue here is that we are taking a path which I think will cause great harm to all of our law abiding citizens," said Sen. Lou Raptakis (D-Coventry).
"This about whittling away from our second amendment until it doesn't exist," said Sen. Elaine Morgan (R-Hopkinton).
All three gun bills will now go to McKee who said he will sign any measure on gun reform that reaches his desk.