Despite R.I. state law, many towns and cities are overcharging for concealed carry permit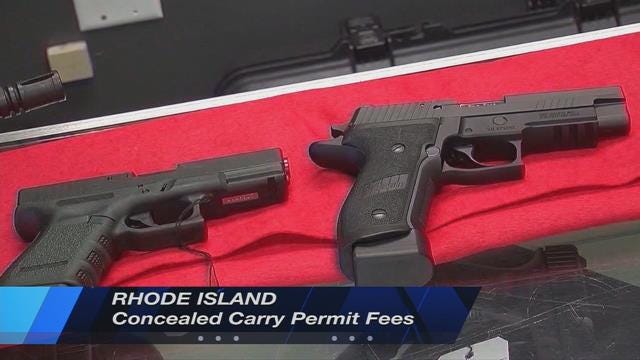 COVENTRY, R.I. (WLNE): Under Rhode island state law, it is $40 to apply for a concealed carry weapon permit.
However, many towns and cities have fees costing up to $250.
Scott Copley, a Coventry resident, noticed Coventry was charging a $200 application fee on top of the $40 permit fee.
"They overcharged all these people so I brought it to the attention of Town Council President McGee who said they would look into it."
Coventry jacked the fee to $200 in 2018. After hearing Copley's complaint, the town council voted to reverse the change on Monday. Town Manager, Edward Warzycha, said at this point they will not be repaying the difference back to applicants.
"It really irked me," Copley said. "And I know other cities and towns are doing the same thing, overcharging residents against state law."
For example, on West Warwick's online application fee states, there is a processing fee of $250.
Some towns are not as high, but still are charging fees higher than $40. In Johnston, a concealed handgun permit costs $90, according to the online application.
Charles Calenda, an attorney at Inman and Tourgee, said this is a clear violation of state law.
"State law sets it at 40 dollars and these cities and towns are trying to get around by saying these are not directly related to you getting the permit but to compensate us for our time to do a background check."
ABC6 News reached out to the Attorney Generals Office to find out whether towns and cities that are charging fees over $40 will face penalties.
©WLNE-TV/ABC6 2020