Dueling haunted houses for Halloween in Cranston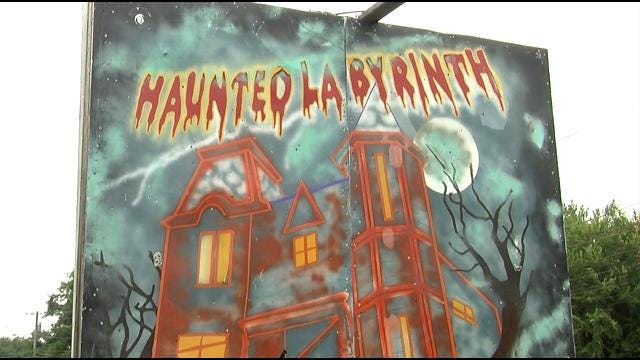 by ABC6 News Reporter Mark Curtis
They were drilling up a storm in Cranston, as construction of the new "Spooky World" attraction got underway with a big promise: "Scare the daylights out of you," said owner Michael Accomando.
The well known Halloween haunt from Massachusetts and new Hampshire, will now have a yearly Rhode island location.
"Our goal is to turn a haunted house into almost a carnival ride. Make you have a lot of fun; lot of screams; a lot of crying; but terrorize you!" said Accomando.
"Spooky World" is on the property of the popular "Mulligan's Island," on one of the busiest routes in Rhode Island. But, in the process, will another haunted house do a vanishing act?
ABC6 News Reporter Mark Curtis said, "This new attraction is not the only haunted house in town and there are concerns it might spook the competition." The "Haunted Labyrinth" is celebrating its 29th year as a fundraiser for the Rejoice in Hope Youth Center in Cranston, and this year's construction is already underway.
"Many youth become involved in the youth center as a result of this activity," said Phil Ritchie of the Rejoice in Hope. Many hope "Spooky World," won't take dollars away from the non–profit Labyrinth.
"You can visit more than one attraction in a matter of a few miles, so we look forward to the fact that maybe more people will be in the area and will want to stop by the Haunted Labyrinth," said Phil Ritchie.
"I don't mind competition. I think it's great. There's a full month for people to go," said Michael Accomando of Spooky World.
And that could means money for both haunted houses is, "spook–tacular". Spooky World will hold an open house on September 15th for job seekers, and hopes to hire 100 Rhode Islanders for the Halloween season.