Diary of Chester Nimitz life as he led U.S. forces against Japan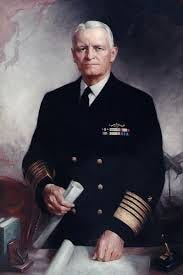 By News Staff
Twitter: https://twitter.com/ABC6
Facebook: https://www.facebook.com/ABC6News?ref=hl
The diary kept by World War II admiral Chester Nimitz is now available online.
Nimitz was commander in Chief of the Pacific fleet and kept a detailed diary of his life as he led the U.S forces against Japan.
The four thousand page diary was posted online by the United States naval war college in Newport.
You can see that diary by going by visiting the website at http://usnwc.edu/Academics/Library/Naval-Historical-Collection.aspx#items/show/849
©WLNE-TV / ABC6