Die-hard Patriots fan and die-hard Rams fan are a couple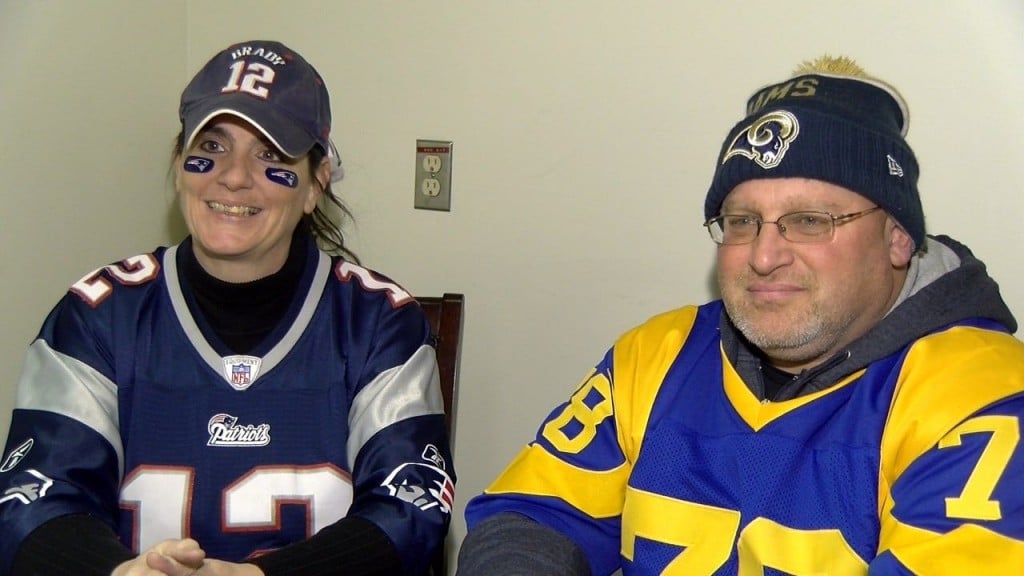 By Jordan Mazza
PROVIDENCE, RI (WLNE) — Gina Prosser is a lifelong Patriots fan, and her boyfriend Mark Gentile is a die-hard Rams fan.
When they started dating more than a year ago, their different football loyalties came up pretty quickly.
"Right away," Prosser said. "We've always been into football."
But being a Rams fan in Patriots country can get lonely.
"Most of my friends are Patriots fans," Prosser said. "And they just love bashing him right along with me."
"I agree with that because most of my friends are Patriots fans," Gentile added.
Prosser is used to having support.
"Yeah, and I'm used to winning," she said, smiling. "Our team is amazing. Tom Brady is the greatest quarterback in the entire world, and when he realizes that his life will be a little bit better."
"All good things come to an end," Gentile responded. "And his time is coming to an end."
During Sunday's games they actually extended an olive branch and rooted for each other's teams.
"I was always supportive of his team, and then he was always bashing mine because he's bitter," Prosser said. "And he finally felt bad and finally decided that he would wear my stuff."
But now the Rams will be facing the Patriots in a Super Bowl for the first time since losing to them 17 years ago.
"I've been waiting for a rematch," Gentile said. "And hopefully some revenge."
And if the Rams succeed in getting that revenge?
"I'll be happy inside for him but I'm going to be really upset, because I'm really hoping for a win," Prosser said. "I think Tom Brady has maybe a year or two left and I really want him to go out on top."
But no matter which team wins, these two fans say it's just a game — and that the rivalry is good for their relationship.
"It makes it fun," Prosser said. "We were praying, waiting for this to happen. I mean, I love busting him up and he loves busting me up, and this is the perfect opportunity for that to happen."
©WLNE-TV/ABC6 2019