Dighton-Rehoboth Senior Makes Prom Possible With Free Dresses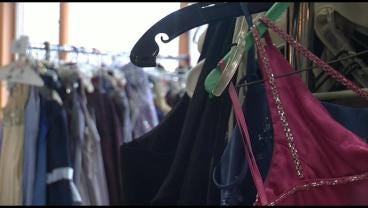 For the last year, Danielle Brodeur, 17, has been collecting prom dresses in her basement. On Saturday, all 1,400 of them went on display at a local church where girls in need could get a gown for free.
The quest to find the perfect prom dress is never an easy task. For Pearl Harris, a senior at Taunton High School, it helps knowing that for once, the price tags do not matter.
"Sometimes you cannot afford this. You cannot afford that," Harris said. "And when there is a free dress option, we definitely take it."
Before the dresses filled the racks at St. Nichols of Myra Church in Dighton, they were in Danielle Brodeur's basement. The Dighton-Rehoboth Senior set out with the goal of making prom possible even if it does not fit the pocketbook.
"It's just rewarding and to see a girl get so happy over a dress, words cannot describe it," Brodeur said.
One of those girls was Pearl Harris. ABC 6 News followed Harris as she sifted through the satin and the sparkles, and eventually, found the one.
"I'm just thankful because if this did not exist, I probably would have had to go in a shirt and a skirt," Harris said.
Before Harris headed out with her floor length maroon dress, she was sure to thank the girl who made her prom possible with a hug.
"I'm just really thankful for her to have this and it's really good to find a dress," Harris said.
The free dresses will continue to be on display at St. Nicholas of Myra in Dighton on Sunday from 12 p.m. to 3 p.m.