Diocese buries baby remains found in wastewater treatment facility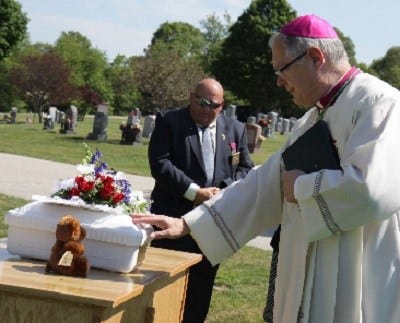 By: News Staff
The Roman Catholic Diocese of Providence has given proper burial to the unborn baby whose remains were found earlier this year at the Bucklin Point Wastewater Treatment Facility in East Providence.
The state medical examiner's office released the remains to the diocese last week after an investigation by East Providence Police.
Police say no matches were found through the DNA samples to determine the baby's mother.
A worker at the plant made the gruesome discovery back in January. An autopsy showed the baby boy was between 19 and 20 weeks along, and could not have survived outside the womb.
The baby's remains were buried on Wednesday at Gate of Heaven cemetery in East Providence. Prayers were offered graveside. A gravestone that reads, "Baby Francis – January 2015" will be placed at the burial site.
Bishop Tobin says he named the baby "Francis" in honor of Pope Francis.
© WLNE-TV 2015