Disappointing night for RI Republicans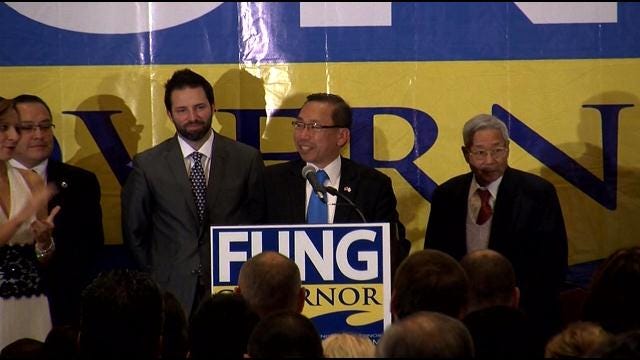 By: News Staff
Reporting By: Mike LaCrosse
Election night was a disappointing for the Republicans in Rhode Island from the Governor's race down. The party lost all the major races for statewide office.
"It was a great race there was a lot of great people you can see the positive support of people behind me you know I am proud to be representing all Rhode Islanders. You know the message is definitely there and I hope that the Governor-elect will take to heart so of the things I put forward," said Gubernatorial hopeful Allan Fung.
It was also a disappointing night for Lt. Governor candidate Catherine Taylor and Attorney General candidate Dawson Hodgson.
"I wish that I was up here giving my beloved Rhode Island GOP the big victory we thought we were going to have. You got me so close four years ago with all your hard work and it just didn't work out this time," said Taylor.
"I am proud of the message that we brought to the people of this state I am proud of all of you and everybody who has stood with me to being a message to the people who lead our little state that we need to different and we need to do better," said Hodgson.
Not all was lost. The republicans did pick up a few seats in the house.
"We took five of the officials Republicans and one Independent who, from my understanding, will be caucusing with the GOP when the time is appropriate giving us a total of 12," said Robert Paquin of the Rhode Island Republican Party.
Fung will continue on with his term as Mayor of Cranston and hints at more possibly more down the road.
"I got one message to all of Rhode Island don't worry I will be back," he said.
© WLNE-TV 2014