Disgraced former CF mayor gets 2 years behind bars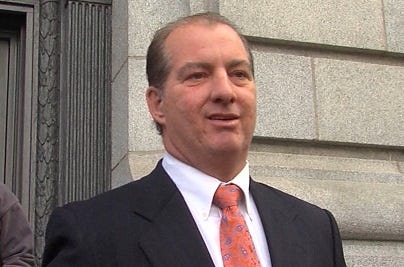 Dee DeQuattro
Disgraced former Central Falls Mayor Charles Moreau has been sentenced to two years in federal prison and a $25,000 after he agreed to plead guilty to a federal corruption charge.
Moreau pleaded guilty to one charge of receiving gifts in November and was sentenced on Tuesday.
During the sentencing U.S. District Court Judge John McConnell said that public corruption has "many victims." He said, "The sad part is that it's nothing new for the state."
Newly elected Mayor James Diossa posted the following message to his Facebook page following the sentencing:
"The sentencing of former mayor Moreau to 2 years in prison on a federal corruption charge brings to an end a sad chapter in our city's history. We must rededicate ourselves to building an honest and ethical city government that delivers city services to everyone equally, regardless of political affiliation or connection to City Hall. We simply cannot go back to the mismanagement and corruption that plagued our city for years.
This is why I urge the public to come to the Council Meeting tomorrow night at 600pm at the Public Works Building at 1280 High St. for final consideration of my Ethics Reform Ordinance which will end pay to play no-bid contracts, require lobbyist disclosure, deny pensions to city officials who violate the public trust and create a city ethics code for all city officials and employees.
Ethics reform will start a new chapter in our great city and be an important foundation for moving Central Falls forward."
Moreau resigned from his post as mayor in September just before a federal indictment came down.
Moreau is accused of exchanging lucrative contracts for boarding up foreclosed properties in the city of Central Falls to his friend Michael Bouthilette's company in exchange for a discounted boiler and free home repairs.
Bouthilette also pleaded guilty to a charge of giving gifts and was sentenced Tuesday afternoon but does not face jail time.