Former City Employee Vandalizes Pawtucket Tombstones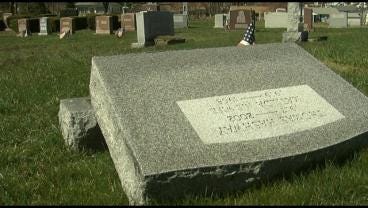 About 50 tombstones have been knocked over at the Walnut Hill Cemetery in Pawtucket in the last two days. The latest happened early Monday morning, and now police say, it was all the work of a disgruntled former city employee.
Kevin Domingos never worked for the cemetery. He claims to have worked for Pawtucket Public Works back in the 90s. He got fired then after getting caught with marijuana. Now police say, he is taking it out on the tombstones.
"There's no excuse for this. No reason. No rhyme," Eddie Ayoub, the cemetery's caretaker said. "They just kicked each stone down, like a karate kick."
42 tombstones knocked over, and in an instant, decades of memories cracked. Most of the damage was done sometime Saturday night, but then the suspect came back for more this morning.
"He knocked three or four more over this morning," Ayoub said. "He was caught by a witness in the parking lot who saw this happening and called the police."
The witness saw Kevin Domingos, 44, of Pawtucket. Domingos admitted to all of it and is charged with 42 counts of desecration of a grave. In a police report, Domingos said he's still mad at the city of Pawtucket for firing him years ago and he did this to, "get back at them."
In the meantime, Eddie Ayoub wonders why that would be taken out on the dead.
"People talk a lot about those three letters, R.I.P, Well a lot of them are not resting in peace," Ayoub said. "As you can clearly see."