DMV recalls 'offensive' vanity plate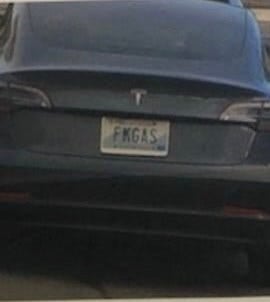 Twitter: @BComakABC
PROVIDENCE, R.I. (WLNE) – The Rhode Island Department of Motor Vehicles is recalling a vanity plate that they say was issued in error.
Another driver spotted the plate on the road and wrote the DMV an anonymous letter with a picture of the plate, which reads 'FKGAS,' attached, saying they found it offensive.
"Typically these don't get by us," said DMV spokesperson Paul Grimaldi.
Officials are using this as an opportunity to remind the public to keep it clean on their plates.
This vanity plate is meant to simulate a swear word on the electric car.
"People are coming up with different objectionable language all the time," said Grimaldi.
Grimaldi says the first line of defense in rooting out inappropriate words for a vanity plate request is the DMV computer system.
He says they have to constantly update their software to account for different languages and new slang.
"It was a combination we hadn't seen before, now we've just added it to the list," said Grimaldi.
According to Grimaldi there have been about 50 inappropriate plates made since 2012 that their software didn't catch.
In this case it was also a new employee who missed it.
"We have a new employee in what we call the 'Plate Room,' and it got by him," said Grimaldi.
So what can you put on a vanity plate? Grimaldi says the list goes on as long as it doesn't involve profanity.
"People can be creative, they can be funny, they can be political," said Grimaldi. "There's freedom of speech but not necessarily freedom for you to just insult people.".
The owner will have to turn in those vanity plates.
The DMV will give the person a new one at no additional cost and also offer some alternative messages to the original.
If they don't respond within 30 days, they could have their registration suspended.
©WLNE-TV/ABC6 2020