Doc Rivers Agrees to Five-Year Extension With Celtics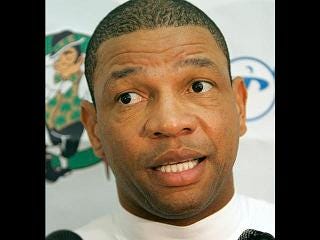 WALTHAM, Mass. (AP) – Doc Rivers has agreed to a five-year contract extension as coach of the Boston Celtics.
General manager Danny Ainge made the announcement Friday, two days after the Celtics were eliminated from the playoffs by the Miami Heat.
Rivers had said after the Celtics 97-87 loss in Game 5 on Wednesday night that he was "leaning heavily" toward coming back.
His contract had been set to expire after this season.
Rivers has coached the Celtics for the past seven seasons, winning the NBA title in 2008 and reaching the finals in 2010 before losing in seven games to the Los Angeles Lakers. This year,
Boston swept the New York Knicks in four games before losing to the Heat.
Copyright 2011 by The Associated Press. All Rights Reserved.