Dog pulled from ice in North Kingstown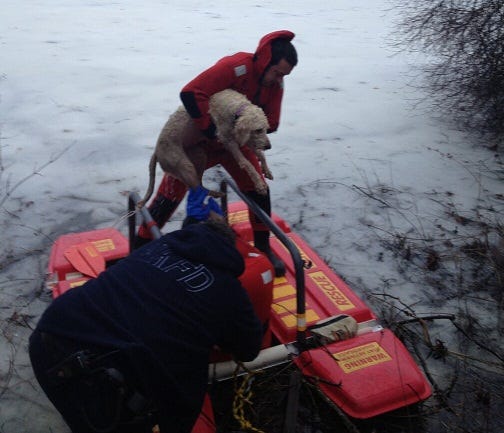 Dee DeQuattro
ddequattro@abc6.com
Reporting by: Melissa Toupin
North Kingstown Fire fighters rescued a dog from the ice on Belleville Pond in Ryan Park on Thursday morning.
The one-and-a-half-year-old golden doodle named Gabby fell through the ice around 6:45 a.m. The pooch saw a goose on the ice and ran out to chase it.
"She [was] really trying to tread water. She [grabbed] up with her paws onto the ice and [tried] to lift her hind legs, but she just couldn't," said owner Elizabeth Macmillan.
Firefighters responded and Private David Shogren went out onto the ice on an ice sled to pull the dog from the hole in the ice.
"[She] was cold when we pulled [her] out, but [she] was okay, [she] was shivering," said Captain Timothy Potvin, who was on scene. Potvin said firefighters wrapped the dog in blankets and placed her in her owner's vehicle.
Gabby didn't require veterinary attention. She has dried off and is at home recovering.
"She's a snuggler any how, but she was extra snuggly today," said Macmillan. "I snuggled with her all morning. She got her snuggles in."
The pair plan to return to Ryan Park Friday to finish the walk they started.