Dog rescued from Taunton well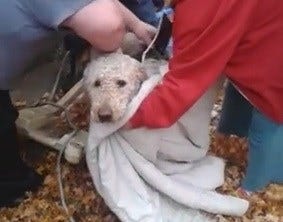 A two-year-old Goldendoodle survived a 25-foot fall into a well outside of his Taunton home.
Lorienn Higgins says her dog Buddy went missing Monday night. The family thought someone stole him. It wasn't until Tuesday morning that two of her kids found the dog standing in water at the bottom of a well in their yard.
"The father dog was standing on one of the rocks near there and looking down there so we thought that he might be down there and we went to go look down there and we saw him looking up at us," said Tyler Higgins, one of the kids who found Buddy.
Fire crews were called in to get Buddy out. He was rescued using belts to pull him up.
The family thinks Buddy jumped on tires and wood that were covering the well. Fire crews say that padding on the way down likely saved his life.
"That was a long drop 25 foot. I thought for sure the dog would've died if it fell that far. I think if it was a smaller dog it probably would've died," said Lt. Thomas Bernier who assisted in the rescue.
The Higgins say Buddy is doing great.
"We are happy that he is safe with no injuries. Thanks to Taunton firefighters," said Lorienn Higgins.
The family tells ABC 6 News they plan to get the well filled in.
(C) WLNE 2015