Dog helps owner through tough times, saved by RISPCA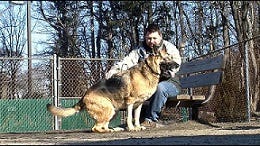 By: Melissa Randall
Tonka the German Sheppard enjoys going for walks in Slater Park with his new owner, Rodney Ferri. Those walks were put on hold for a while after Tonka suffered a severe eye injury that would require surgery.
Ferri, a former National Guardsman, reached out to multiple agencies for help with the expensive procedure. After being turned down multiple times the Rhode Island Society for the Prevention of Cruelty to Animals and the Marvin Fund agreed to pay.
It was the special story of the relationship between man and mans best friend that caught the attention of Dr. E.J. Finnochio, President of the RISPCA. "A story like this was just very touching to me," he said. "I felt that I had to keep this human and animal bond together."
The pair met at the Sanctuary Recovery Residences in Pawtucket which provides assistance to homeless veterans and civilians dealing with substance use to maintain long term sobriety.
Tonka had come to the home after two failed adoptions. Ferri says the 9-year-old dog suffered from post traumatic stress disorder, or PTSD, after serving with the military in Iraq.
"From what I'm told his handler was fatally wounded and Tonka was injured-which he was then unfit for duty- and so he was put up for adoption," said Ferri.
Ferri was, and remains, a resident at the Sanctuary on Manchester St. After being honorably discharged from the 115th MP Co. with the Rhode Island National Guard he found himself homeless, dealing with an alcohol addiction and survivor's guilt. Several members of his unit were killed during an IED attack in Iraq. Ferri had been discharged prior to the incident.
"It was just by a twist of fate that it was them and not me," said Ferri.
Tonka and Ferri had an inseparable bond from early on. Ferri would adopt the dog when the Sanctuary was no longer able to provide from him.
"He slowly came out of his shell, and really allowed me to do the same."
Recently Tonka suffered a severe eye injury when attacked by a feral cat. The dog's eye became infected and Tonka needed medical treatment. The surgery was performed at the Dighton- Rehoboth Animal Hospital. Tonka's eye had to be removed, but he is now recovering.
The two have been reunited and Ferri says they continue to live and volunteer at the Sanctuary.
© WLNE-TV 2014
Follow me on Twitter @MelissaARandall