Donation jar for blood cancer research stolen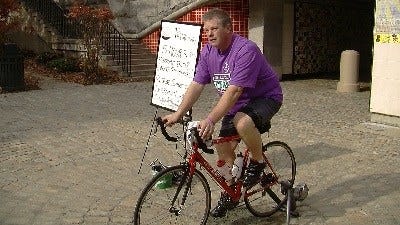 Nicole Brazier
@NicoleBrazierTV
nbrazier@abc6.com
PROVIDENCE – Saturday night, along the Waterfire route, people could hear Rick Lindholm yelling out, "riding 5 hours for blood cancer donations!" He does it at each event, pedaling his stationary bike, raising money for the Leukemia Society.
With just minutes to go in his last ride…
"Two skateboarders approach and they come down and they act like they're going to crash into my sign… Then two other young adults, gentlemen, grab the bucket and run right up the ramp," he said.

At that exact moment, a group of people sitting just feet away sprung into action.
"I just took off! Something just snapped in me and i took off and ran up the stairs and i ended catching him in front of bus stop 31, pushed him to the ground, he dropped all the money, and it went everywhere," said good Samaritan Brian Sullivan.
Cash was quickly picked up by people in Kennedy plaza, but just over $200 was recovered and the thieves got away.
Rick says on a typical Waterfire night he'll raise anywhere from $500 to $1,000, and this loss puts him behind in his efforts to raise $10,000 this year for the foundations big Night Walk event next month. He's about $3,000 short.
"I've been doing this for 4 years and I've never had an incident like that happen so in my mind I'm saying I just lost everything I just raised for something I believe in… and um, I just felt like, I can't believe that this happened to me," he said.
Rick has one more Waterfire left to help him reach his goal – Saturday November 8th.
He says he'll put some extra security measures in place… but he'll be back out there just as he always has been.
To make a donation online click here.
(c) WLNE-TV 2014