Doreen Scanlon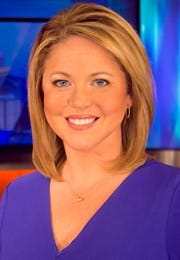 Doreen Scanlon helps wake up southern New England every morning beginning at 5 am. Anchoring Good Morning Providence gives her the unique chance to be the first one to tell viewers about what happened overnight and what they can expect in the day ahead. Doreen also anchors ABC6 News at Noon.  Her work as a reporter has been recognized with an associated Press Award and Emmy Nomination. Rhode Island Monthly readers voted Doreen "The Best Morning News Anchorwoman" in 2014.
Before coming to ABC6 in 2007, Doreen was the morning and noon anchor at KOAM-TV in Pittsburg, Kansas and Joplin, Missouri.
Doreen is proud to be involved with several local charities, namely the Muscular Dystrophy Association, the American Cancer Society, and the Rhode Island Society for the Prevention of Cruelty to Animals.
She is a graduate of Boston College with a Master's degree in Broadcast Journalism from Emerson College. Doreen and her husband Parker have two kids, Grace and Graham.