DOT hears Cliff Walk concerns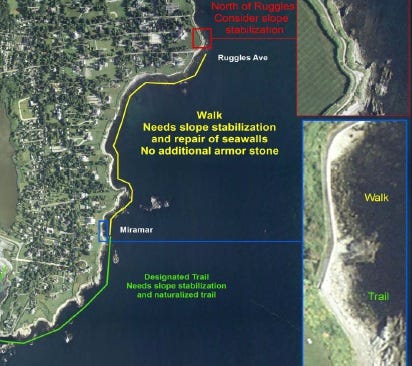 Dee DeQuattro
ddequattro@abc6.com
The Rhode Island Department of Transportation met with concerned Newport residents and local environmental groups to discuss repairs to the Cliff Walk on Friday afternoon.
Clean Ocean Access suggested a plan for the repairs that exclude temporary jetties and any additional armor stones from Ruggles Ave to Miramar.
The group also rejected the current plan to utilize underwater seawall repairs. They suggested developing a maintenance plan for seawalls and sidewalk repair consistent with drainage and structural support.
From Miramar to Bailey's Beach the group proposed establishing a trail south of the stairway at Miramar to Bailey's beach instead of a "walk."
Dave McLaughlin of Clean Ocean Access said he believes the meeting is a good first step in working out a solution with the DOT to repair the Cliff Walk and protect the coastline.