Doubront Tallies Ten Strikeouts, But Late Home Run Pushes Knights Past PawSox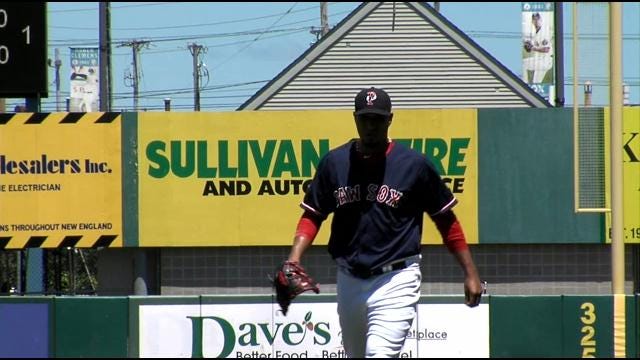 Pawtucket Red Sox Press Release
Pawtucket, RI – Down to a final out and trailing 1-0 in the ninth inning, Charlotte right-fielder Blake Tekotte drilled a two-run home run against reliever Drake Britton to propel the Knights past the Pawtucket Red Sox, 2-1, in front of 8,226 fans Sunday afternoon at McCoy Stadium to salvage a split in the four-game series.
The PawSox lost despite carrying a no-hitter through 6.2 innings. Felix Doubront, making his second start with Pawtucket as part of his MLB rehab assignment, did not allow a run or a hit in five innings. Doubront struck out ten batters and pitched around four walks to keep the Knights off the scoreboard.
The PawSox were held to only two hits, none after the second inning, and struck out 16 times in the game. Three Charlotte pitchers combined to strike out nine of the final 13 batters they faced, including closer Donnie Veal stranding two runners in the ninth by striking out the side.
Pawtucket (35-36) finished the eight-game homestand with a 5-3 record, winning three of four from Louisville before splitting the Charlotte series. The squad was one out away from a second-straight shutout victory before Britton (0-2) allowed Tekotte's two-run shot into the picnic area in right field. It was Tekotte's second home run in as many nights and eighth of the season.
Matt Barnes, making his first professional relief appearance by piggy-backing with Doubront, allowed the first Charlotte hit with two outs in the seventh on a bloop single by Tyler Saladino.
Mookie Betts scored Pawtucket's lone run of the contest in the bottom of the first inning against Knights starter Deunte Heath (2-2). Betts led off the frame with a walk and then stole second base before advancing to third on Mike McCoy's bunt single. A wild pitch by Heath then brought home the PawSox's only tally.
Barnes tossed three relief innings and allowed three hits while striking out two. He stranded two runners on base in each the seventh and eighth innings, including working out of a first-and-third, one-out jam in the eight by getting a strikeout and a popout.
The PawSox next head on the road for eight straight beginning with a four-game series at Rochester and then continuing on to Scranton. Monday's opener is scheduled for a 7:05 pm first pitch, with PawSox right-hander Allen Webster (3-3, 2.94) starting against Red Wings righty Trevor May (6-4, 2.98). Radio coverage on 920 AM (WHJJ) and also streaming online begins at 6:50 pm.
Following the road trip the PawSox return to McCoy Stadium for a season-long ten-game homestand, beginning with four games against Norfolk beginning on Tuesday, June 24th. Good seats are still available at the McCoy Stadium box office, by calling (401) 724-7300 or by visiting pawsox.com.