Dozens testify on bill that would stop 38 Studios bond payments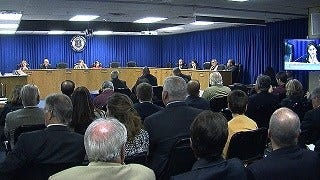 By: Samantha Lavien
Twitter: @samanthalavien
Tuesday night nearly 50 people testified before the House Finance Committee on a bill that would stop the Commerce Corporation and the state from making payments on the $75 million failed 38 studios deal.
"Not one person I have talked to out of my family and friends and 75 to 100 Facebook followers that are from Rhode Island are in favor of paying back 38 studios," said Stephen Lemois of Pawtucket.
"Are we morally responsible for them? I believe we are and I think we have a moral obligation as a state to live up to that responsibility," said Ralph Coppola who works with for the Smaller Business Association of New England.
Last week the committee approved funding the next $12.3 million moral obligation bond.
State Rep. Michael Chippendale is not of favor of paying back the 38 Studios bonds. He says this bill before the Finance Committee would prevent tax payers from paying any more money back.
"This measure is completely separate it is an individual measure that would block that from happening all together," said Chippendale.
Also addressed Tuesday, a bill sponsored by Chippendale that would establish an investigative committee with subpoena power that would look into the failure of public loan guarantee programs.
"It's different from the oversight committee in that it will have a lot more power and it will be made up of individuals from the public it won't be strictly a legislative commission," said Chippendale.
No votes were taken on either bill.
On Thursday the full house is scheduled to vote on the budget which includes paying back the 38 Studios loans.
© WLNE-TV 2014