Driver Runs Down Cranston Officer; Officers Open Fire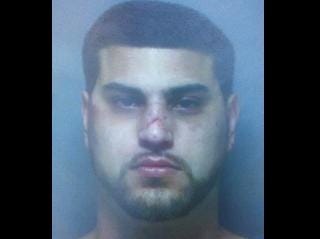 A Cranston Police officer was hit by a suspect allegedly fleeing the scene of an accident, and opened fire on the car just before it struck him.
Police say Wednesday night, just after midnight, Cranston officers were working a traffic stop on Dyer Avenue, when they heard a car accident at the intersection of Dyer Avenue and Cranston Street.
Officers reportedly witnessed a dark-colored vehicle backing away from another vehicle that had just been rear-ended. The suspect vehicle, driven by Massimo Calcagni, 25, of Cranston, then turned towards the officers, and drove directly towards their cruisers.
Police tried to stop Calcagni using verbal commands, but Calcagni did not stop. Calcagni allegedly drove right at one of the officers, and that officer fired his weapon twice, hitting the vehicle. The officer was struck by Calcagni's vehicle, which kept going south on Dyer Avenue.
Calcagni was not hit by the shots. Several blocks away, Calcagni lost control and hit a house near Pine Street. Calcagni fled on foot, and was arrested after a short struggle with the officers. Police say Calcagni was very intoxicated and said he'd been drinking before the incident. Calcagni was charged with two counts of Felony Assault on a Police Officer, Reckless Driving, Resisting Arrest and DUI / Refusal to submit to a chemical test.
The Cranston officer was treated and released from the hospital.
Calcagni is set to be arraigned Thursday afternoon in Kent County District Court.