Driver who crashed into car dealership may face DUI charges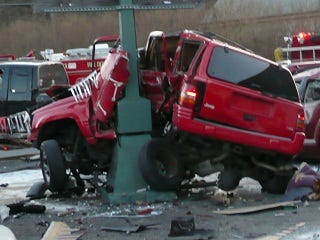 Dee DeQuattro
ddequattro@abc6.com
A driver who drove off the road on Route 3 in Coventry into the Route 3 Auto Sales damaging several vehicles may face drunk driving charges.
West Warwick Police say the accident happened around 5:35 a.m. on Monday morning when the driver of a black pick-up truck who was believed to be intoxicated veered off Route 3 in West Warwick, hit a curb, became airborne and collided with the building and several other vehicles.
The 49-year-old driver was the only one involved in the accident and he was arrested and transported to Rhode Island Hospital to be treated for minor injuries.
Several of the vehicles in the lot sustained heavy damage and some were towed off the premises.