Dry & seasonably cold through midweek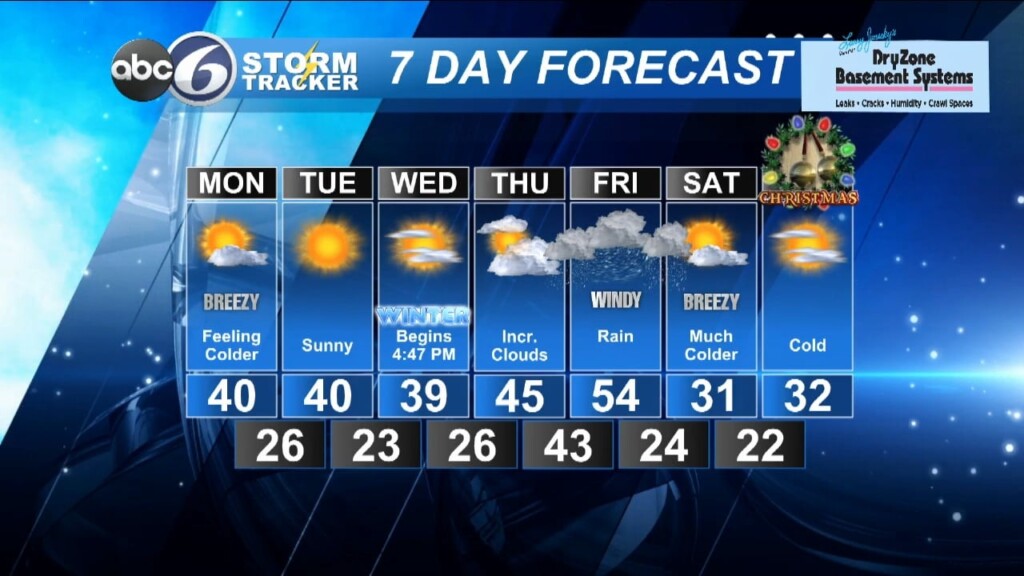 High pressure moving into the region will give us quiet, dry and seasonably cold conditions through the start of the Winter Solstice which begins Wednesday at 4:47pm.
The next storm system that we're following will arrive late Thursday and continue all day Friday. It's still much too soon to determine where a redeveloping Low will take place along the eastern seaboard, but right now there are more signs pointing to this being an 'inside runner'. This means the surface low pressure system will be passing to our west and as a result, rain would be the dominant precipitation type for southern New England. Keep in mind there is still plenty of time for long range model guidance to take on a different look. Stay tuned to your team of meteorologists right here ABC6 News for all the latest updates!
Tonight: Mainly clear, becoming breezy with lows in the upper 20s. Winds WNW at 10-20MPH
Sunday:  Mainly sunny and windy. High near 40, but feeling like the upper 20s to low 30s. Winds WNW 15-25 mph.
Tuesday & Wednesday: Sunny and seasonably cold. Lows in the low and mid 20s, Highs 39-42.
Thursday: Partial sun with increasing PM clouds, milder. Highs in the mid 40s.
ABC6 meteorologist, Bill Gile