Drying out today, but still the risk of an afternoon shower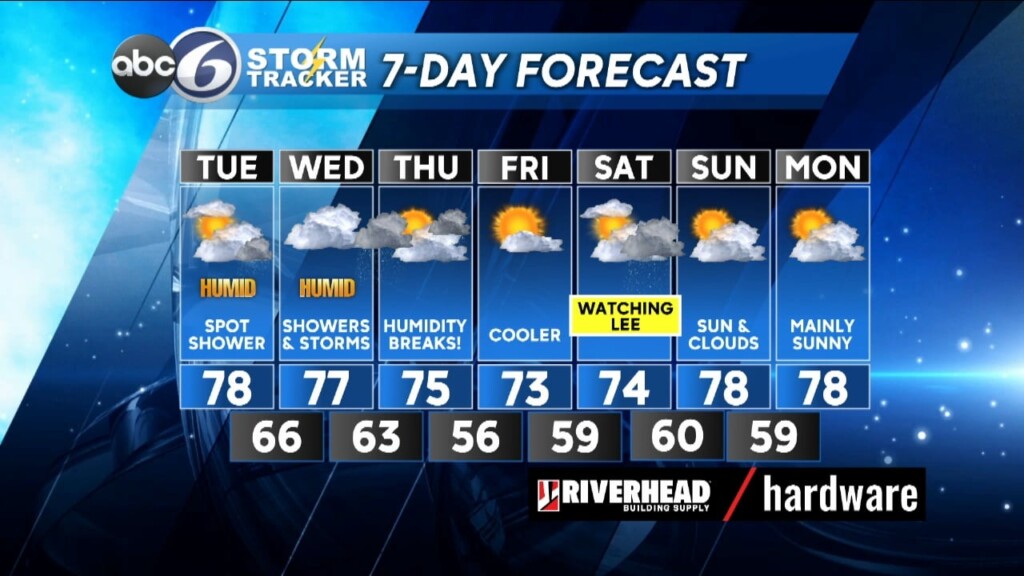 Southern New England remains in a tropical, Florida-like, environment through tomorrow. The morning hours will be the quietest with only clouds around. There will be some breaks of sun especially the further west you are. However, during the afternoon a widely placed shower will pop up, but nothing like what we saw yesterday as it will also tend to be short-lived.
A cold front eventually sweeps away the tropical late Wednesday. Unfortunately, out ahead of it afternoon showers and thunderstorms will develop. Some of these can become locally heavy with rainfall rates of 1-2 inches per hour possible. Finally, dry comfortable and seasonable conditions arrive for Thursday and Friday with the arrival of high pressure.
The focus for the weekend is on Hurricane Lee. The consensus track continues to show it moving into Nova Scotia or far DownEast Maine as a tropical storm status. Confidence in this track, or another, should build in the Wednesday-Thursday timeframe as the players responsible for steering Lee enter the arena. However, even on this track there is decent potential for gusty winds and some rainfall Saturday afternoon and evening, especially on the Cape.
ABC6 Meteorologist Bill Gile