Dunkin' robbery victim speaks, police investigate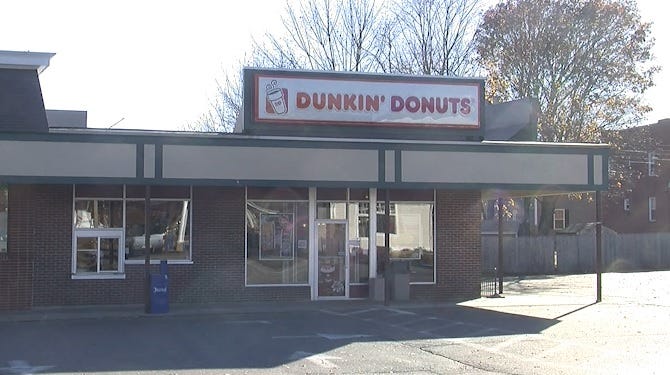 Nicole Gerber
@nicolegerber
BRISTOL – Coming to work at the Bristol Dunkin'' Donuts on Gooding Ave Saturday, Corey Aguiar couldn't imagine that he'd have his life threatened.
"A guy came walking up to the counter when no one was around
and he put a paper down on the counter and it said 'I have a gun, give me all
the money in the register.'"
Shocked… and in disbelief… he handed over what cash he
had at his station.
"I thought it was a joke at first. Then I was like, are
you serious? Is this a joke? And he was just staring at me and shook his head 'no.'"
Police released a security image of the suspected
robber and just an hour and a half later, another surveillance image was captured of another individual
robbing a Dunkin'' Donuts in the small Rhode Island
village of Wyoming.
Police are investigating possible connections between the
two crimes, and the more than two dozen similar robberies in Massachusetts that have
happened since the summer.
Still no matter how many Dunkin's are targeted some regular customers aren't concerned.
"I do not feel worried about going back," said John Fulton, who was actually at the Bristol Dunkin'' Donuts the day it was robbed.
"You hear so many other things going on, other robberies…
it's just a fact of life it seems," said Allen Pires of Bristol.
And when asked if he had any hesitation going into any Dunkin'' locations, Harry Sousa of Bristol said "No, no I could have gone the same afternoon…ha ha…I
don't care."
When it comes to increased security, Michelle King, Director of Global Public Relations for Dunkin'' Brands, Inc. released a statement saying that its stores are "owned and operated by
individual franchisees who are responsible for making their own decisions with
regard to security procedures for their restaurants."
But Corey Aguiar doesn't think that increased security will
necessarily help.
In fact, he's fine returning to work just the way it is.
"It's something that doesn't normally happen… so I'm not
scared to come back," he said.
Police in Rhode Island are
working with Massachusetts
authorities, who have already put together a task force to try and find the
people responsible.
(c) WLNE-TV 2013