Early Spring Nor'easter possible by mid-week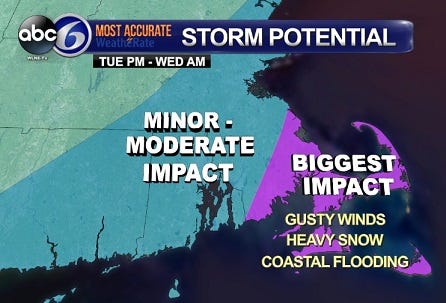 Continuing to keep a close eye on the coastal storm developing over the next few days.
Current models have the track shifting a bit further east which would mean less of an impact for SNE. A slight shift further west and the impacts are greater. Either way a very strong storm will develop off the coast.
We will start to see the effects by late Tuesday lasting into Wednesday mid-morning. Very windy conditions can be expected with the brunt being felt on the Cape & Islands. That's also where we would see the highest snow totals, at this point there is potential for 6″+ in SE MA. As you move further inland to the north and east, the impacts will be less.
Stay tuned over the next two days as a minor change in the track could mean a major change in impacts with this type of coastal storm.