East Greenwich man takes first in Rhode Island for Boston Marathon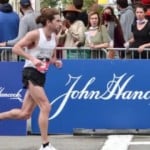 EAST GREENWICH, R.I. (WLNE) – A 30-year-old from East Greenwich took the #1 spot for Rhode Island runners in the Boston Marathon.
Ross MacAndrew crossed the finish line at 2 hours and 29 minutes in his first race back after a serious back injury.
"The calves and the quads are definitely feeling it! And we went out and watched the Sox win last night so that was another taking a toll, so I'm going to sleep well today and tomorrow!" MacAndrew said.
The 30-year-old started running marathons in 2017. In 2019, he broke 8 bones in his back; an injury he thought would end his running career.
"It's not my best, time so the initial is kind of disappointment, but when I just took a second to be like you know, the fact that I'm able to do this and come through again with being the first race back," MacAndrew said. "I was told I should probably stop doing this and I had to take a lot of time off. It was tough. To come back from that, this is the first race I've done since then; I didn't know how it was going to go yesterday."
MacAndrew went in with determination to just get back on the course and run, sporting a shirt that shows the eight bones he broke, a reminder that just being able to run at all is a miracle.
"Because of my injuries, I've got to look at everything like this might be the last one," MacAndrew said. "It's tough, but it kind of puts things in perspective and kind of keeps me present."
Right behind MacAndrew was Jason Reilly of East Greenwich who took second place in Rhode Island and Tim O'Neill of West Kingston who took third.