East Greenwich students rally after pride rock is defaced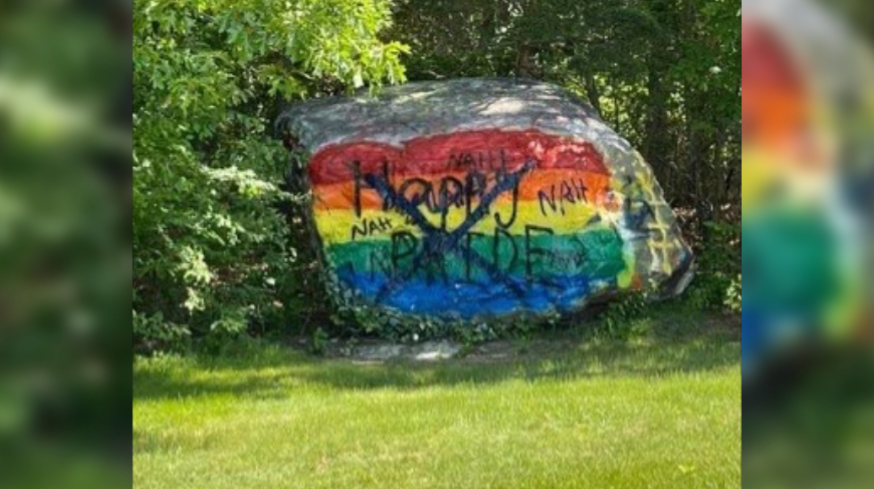 EAST GREENWICH, R.I. (WLNE) – A rock painted by LGBTQ+ students at East Greenwich High School to celebrate pride month was defaced this past weekend.
The rock, painted with the words "happy pride", was spray painted with an "x" and the words "nah, nah, nah".
"I can't say I was surprised that this happened," Junior Michaela Shunney said. "We did actually buy extra spray paint just in case, but it happened about four days after we painted the rock and we all were just really, really disappointed."
Shunney was there to paint the original message and was also one of the students who discovered the rock defaced. But, instead of getting down, she and several other students let their emotions fuel them.
They went back to the rock with a bucket of paint and called everyone they knew, even garnering the help of teachers, the Principal, and the Superintendent.
By fighting hate with love, the group painted over the "x" with a rainbow and replaced it with the words "love".
"The biggest thing that came out of this was the positivity from all the students coming together and showing individual and communal resilience," Principal Ken Hopkins said. "Really, that's what pride's all about. I couldn't be more proud as a principal."
Soon, the effort turned into a community-wide challenge to turn any negative into a positive.
"Even if there are people who have this hatred, if there are people who don't support us, we want to show that no matter what happens, we're going to go above and beyond," Shunney said. "So, we bought more spray paint, we added to the flag, we decorated the Avenger, and even inside the school there's decorations there now too. We just decided that anytime something like this would happen… we'd take it one step further."
The group also vowed to donate money to the Trevor Project, an LGBTQ+ suicide prevention organization, anytime something negative was said or done. But as their message spread, community-members stepped up donating in support. Their original $100 goal was squashed and they raised more than $500, helping prove that love always prevails.
The group also organized their first Pride Festival. That'll happen on June 26th at Academy Field from 11am to 1:00pm.