Ed Cooley Introduced as New Friars Basketball Coach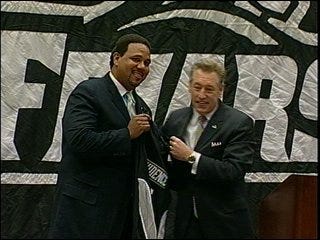 Providence College introduced the new coach of the Friars men's basketball team in a press conference this afternoon.
Providence native Ed Cooley – up until recently the head coach of the men's basketball team at Fairfield University – becomes the 15th coach of the Friars after the firing of Keno Davis following his disappointing 3 seasons.
In five years at Fairfield, Cooley posted a 92-69 record. Prior to coaching there, he was an assistant coach for Al Skinner, one at URI and nine at Boston College.
It's a homecoming for Cooley, who was a Central High School basketball star, and a rags-to-riches story: he was one of nine kids.
ABC6 Sports Anchor Don Coyne has the story from Providence.